RSS Feeds
RSS feeds can deliver the latest InfoLab21 news and events direct to your browser without you having to visit the website.
In most browsers you can click on an RSS link and choose to subscribe to the feed to add it to your favourites or bookmarks.
---
MSc International Innovation gives students chance to work with UK and Chinese businesses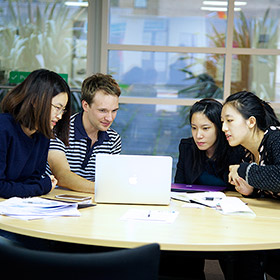 A ground-breaking Masters programme from Lancaster University is giving students the opportunity to work on high-impact business projects that develop collaboration between UK and Chinese SMEs.
The two-year full time MSc in International Innovation, which takes its second cohort of students this October, includes substantial project work on R&D and business development, designed to enhance trade links between the two countries.
The MSc International Innovation is open to graduates with degrees in engineering, computer science, design, architecture, physics, mathematics, businesses and management, chemistry, and environmental sciences.
There are 38 places with a £16,000 bursary for October 2015 entry available across six specialist pathways, depending on the academic background of each student:
The interdisciplinary Masters also equips students with a foundation in the areas of technology, design and management.
In the second year of their degree, students will spend six months working in Guangdong Province on projects with Chinese businesses, and they do projects with UK businesses during their first year.
In preparation for the project work in China, the programme also includes intensive introductions to Chinese language and seminars on Chinese culture and business practice.
The degree forms an integral part of the £5.1m Lancaster China Catalyst programme which is funded by the HEFCE Catalyst Fund and Lancashire County Council to work with technology-focused SMEs in the UK who are looking to expand their activities in China and to form productive relationships with Chinese partners.
"This MSc offers a hugely exciting opportunity for talented students with the ambition to work in international business. It gives our students a real advantage in terms of direct practical experience and understanding of how to interact effectively with Chinese firms," said Programme Director Helen Fogg.
Examples of the joint projects include the development of a web based interface that will give users full access and control of sensor based networks, the design and market development for a new carbon fibre chassis design for a city car suitable for distributed manufacture in China, and the development of energy storage systems.
"I will be working with EBusiness UK. I am excited about the prospect of engaging in the development of an innovative product relevant to a global audience," Caleb Adamu, current MSc International Innovation (Design) student.
Teaching on the programme is provided by the Faculty of Science and Technology, the Lancaster Institute for Contemporary Arts, the Institute of Entrepreneurship and Enterprise Development at Lancaster University Management School, and by the Confucius Institute.
"I would recommend this unique course to other students. This is the only course that provides a great opportunity to get not only theoretical knowledge but also practical knowledge in the computer science field. Through this programme a student will get the opportunity to study in one of the finest universities of the UK and also will develop the required skills and experience in order to undertake a rewarding career," Amish Trivedi, MSc International Innovation (Computer Science).
Issue 1 of the MSc International Innovation Newsletter is now available online- find out about how our current students are getting on with the course, gaining awards, meeting Chinese businesses, and socialising together.
The programme for 2015 intake is open for applications until July 2015. Apply Now!
To find out more, download the MSc International Innovation Computer Science, or Telecommunications flyer, or contact Claire Prior T: +44 (0)1524 592286
www.lancaster.ac.uk/china-catalyst/msc
Wed 29 April 2015
Tweet