RSS Feeds
RSS feeds can deliver the latest InfoLab21 news and events direct to your browser without you having to visit the website.
In most browsers you can click on an RSS link and choose to subscribe to the feed to add it to your favourites or bookmarks.
---
Lancaster entrepreneurs reach final of prestigious national awards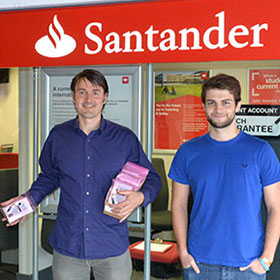 Two businesses started by Lancaster University students have reached the final of prestigious national business awards.
Roomshake, which has created a way for young professionals to find flat mates and quality accommodation, and @ShrimpingIt, which offers programmable electronics for teachers, enabling them to create their own digital devices, have been shortlisted for the Santander Universities Enterprise Awards.
Roomshake, which was founded by Zac Garton, and Josh Jahans, who is studying computer science and design, is one of five shortlisted companies in the Undergraduate category.
Josh Jahans said: "I'm excited and hopefully it will give us the opportunity to really take this venture forward."
Cefn Hoile, who is studying for a PhD in Digital Innovation, and who started @ShrimpingIt, one of five companies shortlisted in the Postgraduate category, said: "It is gratifying that something that's so community oriented can also be recognised as a commercial success.
"If we're lucky enough to get the award it would be the investment boost we need to launch nationally and achieve real scale, getting @ShrimpingIt kits into the hands of hundreds and thousands of learners in the UK education system."
The winners of the competition, which is open to students from 78 UK universities that partner with Santander Universities, will be announced at a ceremony on July 2.
Both student start-ups have received support and advice from the Lancaster Enterprise Centre.
Simon Harrison, Enterprise Champion Project Manager, said: "We're delighted to see students from Lancaster getting into the final of this competition in both categories. Their achievements are down to their enterprising spirit, innovative outlook and hard work.
"We'll obviously have our fingers crossed for them in the final but we'll look forward to making sure they get ongoing support for these new ventures regardless of the outcome."
More information about Santander Universities' work with enterprise can be found by emailing sarah.lonergan@santander.co.uk
Tue 14 July 2015
Tweet