RSS Feeds
RSS feeds can deliver the latest InfoLab21 news and events direct to your browser without you having to visit the website.
In most browsers you can click on an RSS link and choose to subscribe to the feed to add it to your favourites or bookmarks.
---
Lancaster winner of the UK ICT Pioneers contest 2015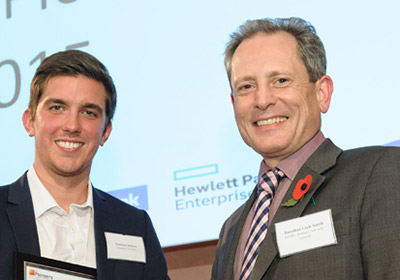 A Lancaster student has won a national competition for the excellence and commercial potential of his ICT related research.
Jonathan Roberts is the overall winner of the 2015 UK ICT Pioneers competition for his research Nano-Identification: Fingerprints of the Future.
His invention uses next-generation quantum technology to uniquely identify any product, and there are plans to commercialise this through the Lancaster University spin out company Quantum Base.
The Physics PhD student came first in the Future ICT category and went on to triumph following a Dragon's Den-style pitch to claim a £3,000 prize at an awards ceremony in London.
Industry judges and sponsors of the competition were from; the Engineering and Physical Sciences Research Council (EPSRC), Defence Science and Technology Laboratory (Dstl), Hewlett Packard Enterprise, Facebook, British Computing Society (BCS), Samsung and BT.
Jonathan is a Lancaster PhD student at the EPSRC NowNano Doctoral Training Centre.
He said:
"My invention involves the creation of devices with unique identities on a nano-scale employing state-of-art- quantum technology. Each device will be unique and 100 per cent impossible to copy. I've created an optical identity using graphene and an electronic identity. We're now working towards measuring these devices with a smart phone set-up so you can authenticate any device at any point in the supply chain.
"By slimming digital fingerprints down to an atomic scale we've created devices that are not only smaller and cheaper but also fundamentally more secure than any other existing technology."
Philip Nelson, Chief Executive of EPSRC, who presented the prizes, said:
"ICT Pioneers is our 18 monthly regular competition that we use to showcase the best work produced by UK PhD students. It's awarded to students who can demonstrate the excellence and commercial potential of their ICT related research."
Fifteen finalists showcased their research at the prestigious event which was compered by BBC science presenter Quentin Cooper.
Watch a video showing industry judges and sponsors explaining the impact of ICT research to advance innovative technologies within their business.
Mon 02 November 2015
Tweet