RSS Feeds
RSS feeds can deliver the latest InfoLab21 news and events direct to your browser without you having to visit the website.
In most browsers you can click on an RSS link and choose to subscribe to the feed to add it to your favourites or bookmarks.
---
University spin-out company is the next big thing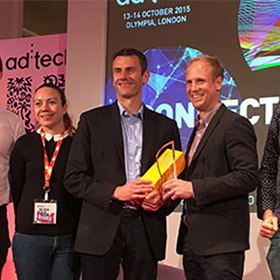 The world's second largest advertiser says Relative Insight is the one to watch for brands, marketers and advertisers.
Relative Insight is the new champion of ad:tech London's Next Big Thing, an initiative designed to connect global brands with 'MadTech' startups.
Whittled down from 120 entries, Relative Insight competed against 15 other startup finalists and was awarded the opportunity to work with Unilever on a pilot worth up to $50,000 and will receive a £5,000 cash prize.
Relative Insight's platform, which turns language into data to give brands valuable intelligence on consumers and competitors, was built based on 10 years of research at Lancaster University, and was initially developed to identify criminals for law enforcement agencies.
The company was started by former Lancaster University researchers Dr James Walkerdine and Dr Phil Greenwood.
Dr Walkerdine said: "We are absolutely delighted that our work helping companies understand their consumers and manage effective campaigns has been recognised in this way, especially given the quality of the competition. We're looking forward to extending our relationship with Unilever."
The winner was determined by judges Georgina Park, Global Brand Manager, Unilever; Ian Lane, Principal, Unilever Ventures; Lawrence Weber, Managing Partner Innovation, Karmarama; and Rob Chapman, Director, Founders Forum. Tech London Advocates supported the process with Ken Valledy of Tech2Brand compèring the event.
"Relative Insight demonstrated the type of innovation, enthusiasm and energy that we're looking for at Unilever and as part of 'The Next Big Thing' award," said Jeremy Basset, Head of Unilever Foundry. "Relative Insight's innovative technology can provide our brands with unique analysis and tracking of the language they and their consumers use, ultimately leading to improved consumer engagement. We're looking forward to working with Relative Insight in a closer capacity moving forward."
"ad:tech London is designed to serve the needs of the modern marketer and through The Next Big Thing we have gathered together some of the hottest new technologies and services available for those marketers who want to be ahead of the pack. For Relative Insight to rise above the other 200 or so applicants to be crowned ad:tech 2016's Next Big Thing is a testament to a fantastic product and team, and we look forward to watching them grow over the coming years," said James Drake-Brockman, Head of EMEA & India, ad:tech.
The winners of the 2013 and 2014 competition were Avocarrot and seenit, which have each partnered with Unilever in global markets following their respective wins.
Mon 02 November 2015
Tweet