RSS Feeds
RSS feeds can deliver the latest InfoLab21 news and events direct to your browser without you having to visit the website.
In most browsers you can click on an RSS link and choose to subscribe to the feed to add it to your favourites or bookmarks.
---
New Internet of Things research hub announced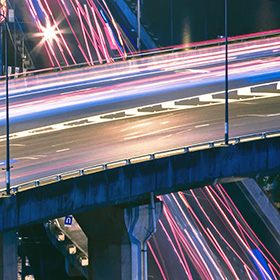 New research will ensure that the UK is a global leader in the privacy, ethics, trust, reliability, acceptability, and security (PETRAS) of the 'Internet of Things' (IoT). And with this strong foundation the UK will become the world's best place to develop and deploy new internet technologies.
Lancaster University is part of a consortium that has received £9.8 million support from the Engineering and Physical Sciences Research Council (EPSRC), as part of a £40 million investment programme from UK Government.
Lancaster's involvement in the Hub brings together expertise from the Security Lancaster and Imagination Lancaster research centres, and Lancaster's Data Science Institute.
This interdisciplinary work will concentrate on a number of key areas, including the security considerations for connected devices in critical infrastructure and industrial environments, the creation and use of 'big data' for 'smart' highways maintenance and 'e-Campus' (the world's largest research testbed for ambient displays), as well as developing new design techniques that will be used to create visions of what the future for the internet of things may be to enable as many people as possible to engage with shaping those futures.
Rachel Cooper, Professor of Design Management and Policy at Lancaster University, said:
"The Internet of Things is shaping up to be the next big digital revolution with billions of objects becoming connected to the internet. These devices will produce unprecedented volumes of data as well as posing significant security challenges and the need for innovative design solutions.
"Working alongside colleagues within the Hub, Lancaster's expertise will cut across these areas to provide solutions that will help ensure that the IoT brings about its much promised economic and societal benefits to the UK in a way that is safe, secure and robust."
Ed Vaizey, Digital Economy Minister announced the Government funding for the Hub on 6 January 2016. He said:
"UK universities are renowned for their creativity, and pioneering research and development. We want the UK to be a world leader in the adoption of Internet of Things technologies, and I know that bringing these universities together with partners from the UK's thriving tech industry will be instrumental in making this a reality."
An additional £9.7 million comes from partners including SMEs, industry, NGOs, and public bodies. With just over £4 million of additional support from the participating institutions, the total investment in the PETRAS IoT Hub comes to £24 million over three years.
The Hub is a consortium of nine leading universities have come together as the PETRAS IoT Hub, led by UCL with Imperial College London, Lancaster University, University of Oxford, University of Warwick, Cardiff University, University of Edinburgh, University of Southampton, and University of Surrey.
Initial IoT work carried out by Lancaster experts as part of the Hub includes:
Studying the security and safety risks posed by the introduction of IoT in industrial infrastructures.
Developing novel cyber security driven architectures based on the philosophy 'If it is not cyber secure, it is not safe'.
Contributing expertise in data and trust within IoT systems for smarter highways maintenance and ambient environments.
Developing new design techniques that will enable people to shape the future of the Internet of Things.
PETRAS IoT Hub Director Professor Jeremy Watson said:
"We will maximize the economic and societal opportunities of the Internet of Things by removing barriers to adoption.
"Working with business, public, and third sectors will enable the PETRAS IoT Hub members to investigate questions of safety, security, privacy and trust within real life settings.
"The UK has the potential to be the world's most supportive environment for the development and deployment of a safe and secure Internet of Things. We will raise the bar using innovative collaborative and interdisciplinary research methods."
Lancaster academics involved in the PETRAS IoT Hub include Professor Rachel Cooper, Professor Paul Coulton, Professor Awais Rashid and Professor Nigel Davies.
Professor Philip Nelson, EPSRC's Chief Executive, said:
"In the not too distant future almost all of our daily lives will be connected, in one way or another, to the digital world. Physical objects and devices will be able to interact with each other, ourselves, and the wider virtual world.
"But, before this can happen, there must be trust and confidence in how the Internet of Things works, its security and its resilience. By harnessing our world-leading research excellence this PETRAS research Hub will accelerate IoT technology innovation and bring benefit to society and business."
Thu 07 January 2016
Tweet