RSS Feeds
RSS feeds can deliver the latest InfoLab21 news and events direct to your browser without you having to visit the website.
In most browsers you can click on an RSS link and choose to subscribe to the feed to add it to your favourites or bookmarks.
---
Lancaster Human Computer Interaction technology showcased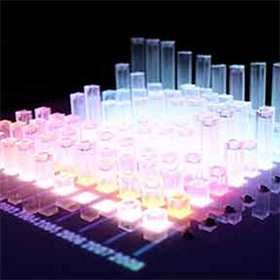 Shape-shifting display technology developed at Lancaster University will be showcased at a special event this month.
The Living Display Showcase event, at the University of Sussex on Tuesday 30th August, features live demonstrations to celebrate technologies developed as part of the GHOST (Generic and Highly Organic Shape-changing Technologies) project.
The event will act as part of a celebration of the completion of the GHOST project, led by Professor Hornbaek from University of Copenhagen and involving Dr Jason Alexander (Lancaster University), Professor Markopoulos (Technical University of Eindhoven) and Professor Subramanian (Sussex). The celebration will include live demonstration of technologies from the Universities of Sussex, Copenhagen, Swansea, Lancaster and Eindhoven.
Dr Alexander, a senior lecturer at Lancaster's School of Computing and Communications, said: "Shape-changing displays allow the user to bend, twist, push or pull pixels on their screen, or to have the display physically reshape itself based on the content.
"These displays are the next generation beyond Augmented and Virtual Reality and Lancaster has played a key role in pushing forward research in this field." Lancaster University will be taking along Shapeclips, a technology that can turn any display into a shape-changing surface and use it to create 3D bar charts that rise out of the screen.
Sussex's demonstrations include a moving fabric display that can be pinched and pulled, floating graphs, mid-air controls using haptics, and a Live Interactive Art that can be experienced on the day.
Finally, the Technical University of Eindhoven will demonstrate the growing DIY trend in the field, with their MorphBrix and SPOT projects. People interested in attending the event can find out more by visiting https://www.eventbrite.com/e/living-display-showcase-tickets-27304299896
More information about GHOST is available by visiting www.ghost-fet.org
Tue 13 September 2016
Tweet