RSS Feeds
RSS feeds can deliver the latest InfoLab21 news and events direct to your browser without you having to visit the website.
In most browsers you can click on an RSS link and choose to subscribe to the feed to add it to your favourites or bookmarks.
---
Hollywood Award For InfoLab21 Inventors
Story supplied by LU Press Office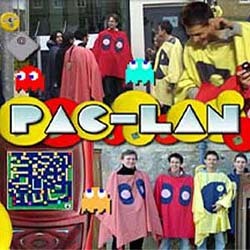 Two Lancaster University students who helped invent a pioneering mobile phone game have been invited to Hollywood to receive an award at the American Film Institute.
PhD students Will Bamford and Omer Rashid have been awarded the Computers in Entertainment Scholarship Prize 2006 from the US-based ACM which is one of the world's premier computer societies.
They will each receive up to $5,000 and the choice of an internship at either the Mixed Reality Lab at the National University of Singapore or its offshoot, the Hollywood Lab in Los Angeles, which researches digital media technology in collaboration with Hollywood studios and entertainment companies.
Omer said: "It's totally unexpected and I'm looking forward to working at the cutting edge of digital media and establishing international connections."
Their invention is the first game in the world to use mobile phones equipped with Radio Frequency Identification Tags. RFID tags are small devices - like barcodes - which can transmit and receive data. It is estimated that over half of mobile phones will be equipped with RFID by 2009.
Will said: "RFID is already being used in some countries to pay for tickets with your phone which has a tag inside, or to add up your shopping as you go around so you don't have to empty the trolley.It's going to be huge and this was the first game in the world to use phones with RFID for mixed reality gaming."
Called Pac-Lan - in homage to the early computer game Pacman - the game can be played by up to five players on mobile phones.They keep track of one another's position through images on their mobile phones as they chase each another around.
Players have to collect points from a series of RFID tags attached to discs on lamp posts. When a player collects their points by holding their mobile phone against the disc, the virtual reality maze on each phone is updated with the player's position.Each player shows up as an animated character - Pac-Lan or Ghost - moving round the screen. This enables a team of Ghosts to track the player down and catch them.
Also sharing in the prize are Dr Paul Coulton and Dr Reuben Edwards from Lancaster University's Department of Communications Systems, based at InfoLab21, along with Jurgen Scheible of the University of Art and Design in Finland.
Dr Coulton said: "There's a change in the delivery of entertainment with the development of a DIY culture with blogs, mash-ups and sites like MySpace and there is considerable interest in new entertainment genres such as highlighted by Pac-Lan.
http://www.acm.org/pubs/cie.html
http://www.afi.com/default.aspx
http://www.mixedrealitylab.org/
Wed 27 September 2006
Tweet