RSS Feeds
RSS feeds can deliver the latest InfoLab21 news and events direct to your browser without you having to visit the website.
In most browsers you can click on an RSS link and choose to subscribe to the feed to add it to your favourites or bookmarks.
---
NEW Voice Over IP & IP Telephony Courses for SMEs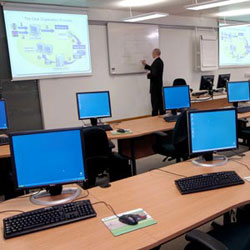 ICT Focus has launched NEW Voice Over IP & IP Telephony Courses for SMEs.
Are you thinking about or currently undertaking an IP Telephony rollout?
Are you an SME or medium-sized organisation looking to reduce operation costs with a VoIP system?
Do you need to configure & manage IP Telephony services?
If so then this new course in IP Telephony from Cisco is the answer for you.
This 5 day, intensive course provides an introduction to converged voice and data networks as well as the challenges faced by its various technologies. The course presents Cisco solutions and implementation consideration to address those challenges.
The course is running 26th-30th March. Course fee £950 (no VAT payable).
There has already been a lot of interest so if you think it might be for you please let us know asap.
Other courses coming up soon include:
Certificate in Network & Systems Administration:
Providing an introduction to the skills and knowledge essential to running an efficient and effective IT infrastructure, this is one of our most popular courses and is the first course in our suite of Foundation Degrees in Systems & Network Engineering. Designed specifically for those already working in an IT support role, with a flexible timetable, the next course starts in January.
Course fee - only £595. View further details
One-day workshops on Microsoft Exchange 2007
An overview of what's new in Exchange 2007 followed by a hands-on workshop:
- Clinic: Getting started with Exchange Server 2007 : 20th Dec : a full day including lunch & refreshements - only £45
- Hands-on Lab : Getting started with Exchange Server 2007 : 21st Dec : £125
Book on both for £150
Microsoft MCSE Core courses
Book on these 5-day courses for only £295 as part of our Certificate in Microsoft Technologies. Fees include official Microsoft courseware, refreshments & lunch, 5 days of instructor-led training, additional learning materials following the course, support with working towards the assessment and a mock professional exam from Transcender.
Ethical Hacker & Forensic Investigator Training & Certification:
We have recently added to the Certified Ethical Hacker course and are pleased to be able to offer Forensic Investigator and Security Analyst courses. See schedule & further details
Tue 14 November 2006
Tweet