RSS Feeds
RSS feeds can deliver the latest InfoLab21 news and events direct to your browser without you having to visit the website.
In most browsers you can click on an RSS link and choose to subscribe to the feed to add it to your favourites or bookmarks.
---
InfoLab21 Praised Following LARIA Visit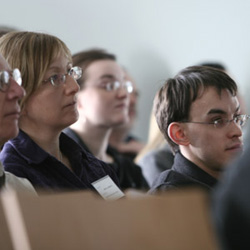 The annual meeting of the UK's LARIA (Local Authorities Research & Intelligence Association) was held at Lancaster University on 27-29 March.
Included in the agenda was a recently produced compilation film of InfoLab21's activities and a tour of the building.
Graham Smith, LARIA's event organiser thanked InfoLab21 commenting, "The visit to Infolab21 contributed to the event being the best one we have held.
"The conference delegates thoroughly enjoyed the films, talks and tour - it provided a talking point for the remainder of our conference."
InfoLab21 speakers included Computing Department's Gerd Kortuem, Philippe Jan from ICT Focus, Mark Robinson from KBC company Escendency and Steve Riches, KBC Director.
Thu 12 April 2007
Tweet