RSS Feeds
RSS feeds can deliver the latest InfoLab21 news and events direct to your browser without you having to visit the website.
In most browsers you can click on an RSS link and choose to subscribe to the feed to add it to your favourites or bookmarks.
---
Investigating The Impact of E-Collaborative Technologies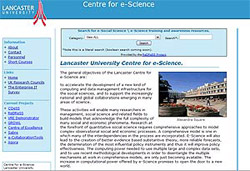 A Lancaster University e-Science project supported by InfoLab21 has now published its results.
Lancaster Centre for e-Science at Lancaster University Management School has published the results of a large scale survey of Small and Medium Sized Enterprises (SMEs) on their adoption and use of ICT.
Focussing on enterprise in the North of England, the survey gathered information from 1029 SMEs. The Enterprise Survey report, jointly produced by the Northern Leadership Academy and the Lancaster Centre for e-Science, provides up to date statistics on ICT connectedness (e.g. broadband and IP network penetration).
The survey also measured the expected demand for e-collaborative technologies that would be provided via portal technology, like web based online whiteboards and video conferencing (see details).
The project that the new survey resource focuses into is funded by the EPSRC (Engineering and Physical Science Research Council) and aims to assess the potential impact of web based applications on enterprise operational efficiency. Importantly also, it aims to uncover evidence on how to bridge digital divisions between large enterprises and SMEs using these and similar web based technologies so that economic output is optimised.
Download survey results click here.
For further details on the survey or project matters contact Alastair Robertson at the Lancaster Centre for e-Science (a.w.robertson@lancaster.ac.uk).
The Lancaster Centre for e-Science thanks InfoLab21 for supporting this research.
Thu 10 May 2007
Tweet