RSS Feeds
RSS feeds can deliver the latest InfoLab21 news and events direct to your browser without you having to visit the website.
In most browsers you can click on an RSS link and choose to subscribe to the feed to add it to your favourites or bookmarks.
---
Latest Business Support Opportunities from LU Management School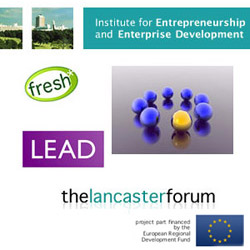 The Institute for Entrepreneurship and Enterprise Development (IEED) offers assistance for small and medium sized enterprises.
Business support is provided via Action Learning Sets, Fresh Marketing and People Workshops, The Lancaster Forum, the LEAD Programme and Student Projects
Upcoming events:
Fresh Marketing and People workshops commencing mid May '07 at Lancaster University and the Investment Centre, Skelmersdale.
LEAD preview days - 12th June & 3rd July '07 at Lancaster University. 1st session of the '07-'08 Lancaster Forum on 22nd May '07 presented by Dr. John Mackness on the Theory of Constraints at Lancaster University.
For more information on any of the above please contact Helen Fogg on 01524 510716 or h.fogg@lancaster.ac.uk or visit the IEED website: www.lums.lancs.ac.uk/ieed
IAS Symposium 'Engaging HEIs in business and the community: A learning perspective' 22nd and 23rd May 2007. The purpose of this symposium is to explore how we, as academics engaged in the design and delivery of outreach activity, can frame this work theoretically and incorporate it into our academic research.
More information can be found at www.lums.lancs.ac.uk/events/10182
Thu 10 May 2007
Tweet