RSS Feeds
RSS feeds can deliver the latest InfoLab21 news and events direct to your browser without you having to visit the website.
In most browsers you can click on an RSS link and choose to subscribe to the feed to add it to your favourites or bookmarks.
---
InfoLab21 Students Represent UK at International Conference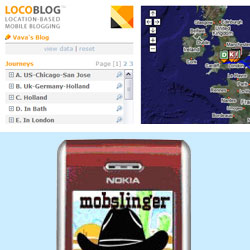 Students from InfoLab21 demonstrated their LocoBlog service and MobSlinger game at the annual Series 60 Summit in Madrid alongside the Nokia Research Centre and other leading international mobile applications developers.
InfoLab21 has established an excellent international reputation for teaching and developing innovative mobile applications and Lancaster University was the only British University to be invited and InfoLab21 students were the only student demonstrating.
The Summit demonstrated innovative S60-related research and development being carried out in a number of universities across the world. Other University Exhibitors included Aalborg University (Denmark), Technical University of Denmark, the University of California, San Diego and Budapest University of Technology and Economics.
There were around 80 demonstration pods on display showing new phones like the KS10 (previously known as the LG JoY) which will be available in Europe soon.
InfoLab21 demonstrated the LocoBlogger service and MobSlinger game. LocoBlogger uses GPS info and a phone's camera to blog in a location aware manner. Images (suitably tagged) are uploaded to a server and then displayed on a map to create a travelogue record of where a user has been. Locoblog was prototyped in Python, but is now available as a JME application from the LocoBlog site (where you can also set up a LocoBlog).
MobSlinger is a game which uses Bluetooth proximity to recreate Wild West shootouts. Players install the game on their phone and then, at random intervals (and in the presence of another playing phone), have to 'draw' their phone and enter a random number to kill the opposing player.
Wed 06 June 2007
Associated Links
LocoBlog - a mobile phone application and website supporting location based mobile photo blogging
Mobslinger - Mobile game
Tweet