RSS Feeds
RSS feeds can deliver the latest InfoLab21 news and events direct to your browser without you having to visit the website.
In most browsers you can click on an RSS link and choose to subscribe to the feed to add it to your favourites or bookmarks.
---
Wireless Sensor Networks Event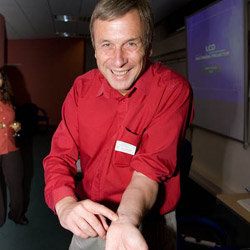 Wireless Sensor Networks (WSN) are one of InfoLab21's specialist areas of expertise.
The aim of SensorNet 2007, held at Lancaster University on 30th May, was to bring together experts in WSN from research & industry to share ideas, demonstrate commercial applications of WSN and foster collaboration.
SensorNet 2007 speakers
Speakers from Microsoft Research, BT, Manchester University's School of Electrical Engineering, InfoLab21 Associate company Savant Enterprises Ltd and Lancaster University spin out digital art company Big Dog Interactive joined speakers from University Departments of Computing, Communication Systems, Engineering, Geography, Sociology amd Environmental Sciences.
SensorNet 2007 topics
Through-out the day attendees were presented with different perspectives and uses of Sensor Networks. The event started with the keynote speech on Thought Communication, Networks for the Future by Prof. Kevin Warwick, Professor of Cybernetics, Reading University, internationally renowned for implanting a device into his arm in order to link his nervous system directly to a computer.
Other topics covered included using Sensor networks in the field to support Health & Safety in Industrial Sites and for monitoring climate change, developing Wireless Sensor Networks for Industrial Processes, the applications of Ultra-wide-band (UWB) in Mobile Sensor Networks, how sensors are being used to develop more effective treatments for cancer and improve hygiene standards through-metal RFID Tagging of Surgical Instruments.
In addition, BT discussed their ideas for a standard global platform for devices to aid communication between sensors and the final speaker from Sociology examined the current and potential social impact of Technologies of Social Communications, Cognition & Securities.
SensorNet 2007 Demonstrations
Demonstrations included Digital Live Art from Big Dog Interactive and a posters display and the event closed with an open discussion exploring questions on improving sensor networks accuracy and reliability in the field.
Join IT!
To join the SensorNet2007 group see www.comp.lancs/sensornet
Fri 08 June 2007
Tweet