RSS Feeds
RSS feeds can deliver the latest InfoLab21 news and events direct to your browser without you having to visit the website.
In most browsers you can click on an RSS link and choose to subscribe to the feed to add it to your favourites or bookmarks.
---
Innovation Exchange Event a Success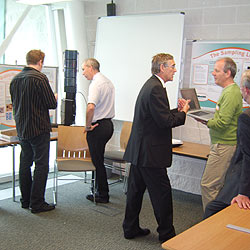 The Knowledge Business Centre (KBC) at InfoLab21 would like to thank all the presenters and visitors who came to the first Innovation Exchange event on June 14th.
Due to its success the KBC plan to hold more Innovation Exchanges in the future to present new reasearch projects and developments in ones previously presented.
Steve Riches, Director of the KBC said; "We had a lot of interest on the day from the private sector and some collaborations were discussed during the event. All attendees were very impressed with the content and quality of the academic presentations and would like to see such an event happen again in the future."
Some of the posters displayed at the event are available from our Downloads section of our website. Please follow the link at the bottom of this article.
If you attended the event and would like to discuss any follow up activity, please contact Colin McLaughlin or Nick King on 01524 510443/7.
The Innovation Exchange was part of the Technology Matters event series which is a quarterly Networking opportunity for technology-led businesses and researchers. The next Technology Matters event will be on Wednesday 5th September and will be partly on Research and Development tax credits, further details will soon be avaiable.
Mon 02 July 2007
Associated Links
Tweet