RSS Feeds
RSS feeds can deliver the latest InfoLab21 news and events direct to your browser without you having to visit the website.
In most browsers you can click on an RSS link and choose to subscribe to the feed to add it to your favourites or bookmarks.
---
ICT Focus Congratulates First Group of Graduates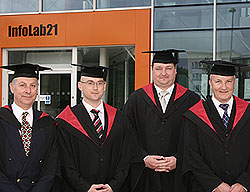 ICT Focus saw their first group of students graduate from Lancaster University.
David Edwards, Kenny Harper, Jim Williams and Keith Wilson have all successfully completed the Foundation Degree (Fd) in Network and Systems Engineering: a culmination of four years part-time study with ICT Focus.
The four students, who all have full-time jobs in the IT Industry, recently demonstrated their final year project to an enthusiastic audience at InfoLab21's Innovation Exchange.
This project showcased an application which enables football fans to view on-line content such as videos and fixtures, and share and search user-provided media, amongst other things.
They attended the degree ceremony at County College on July 20th. The Foundation Degree is offered jointly by ISS and the Department of Continuing Education and accredited by the Computing Department.
The course has become increasingly popular and allows students to study part-time, while allowing them to fulfil their work commitments. ICT Focus expects an increased number of students to graduate next year.
New graduate Keith Wilson added,
" When ICT Focus introduced a series of courses that can be studied part time that lead to a Foundation Degree, which are run for people like me that have maybe worked in the computer industry for 30 years but never got any qualifications, I thought let's give it a go.
"I had never expected the course to give me such a sense of confidence and direction but having now made a fresh start in education the temptation to go further is quite strong"
For more information about ICT Focus courses and their Foundation Degree Programme, please contact 01524 510425
Mon 06 August 2007
Tweet