RSS Feeds
RSS feeds can deliver the latest InfoLab21 news and events direct to your browser without you having to visit the website.
In most browsers you can click on an RSS link and choose to subscribe to the feed to add it to your favourites or bookmarks.
---
Training Opportunities at ICT Focus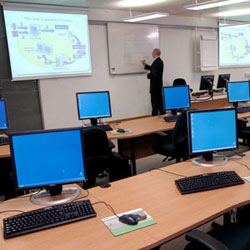 Upcoming courses at InfoLab21's Training Centre - ICT Focus - are as follows, including special rates for InfoLab21 Associate Companies:
MS2543 Core Web Application Technologies with Microsoft Visual Studio 2005 20th -22nd August 2007
*special offer for InfoLab21 companies £405 (normally £450)
This three-day instructor-led workshop provides students with the knowledge and skills to develop Microsoft( ASP.NET 2.0 Web applications using Microsoft Visual Studio 2005. The workshop focuses on user interfaces, Web site structure and functionality, and implementation details.This workshop is intended for corporate/ISV application developers who have a desire to learn more about specific technology areas in Web application development.
Further information can be found at:
Become a Certified Ethical Hacker (CEH) 3rd - 7th September 2007
*Special offer to associated InfoLab21 Companies £1,850.00 ( normally £2,000.00) No VAT payable. Price includes official CEH exam voucher.
This 5-day CEH course differs from most security courses in that it teaches how to defend network & systems against hacking by studying in depth how hackers work. Rather than focusing on security audits, the course gives plenty of hands-on experience of attacking systems. By immersing the delegates in the tools and tricks of the "hacking" trade, they learn how to secure their systems & networks against them.
The course is aimed at security auditors, IT security professionals, systems administrators or anyone who is concerned about the integrity of the network infrastructure. Delegates should be experienced systems/network administrators (MCSE or equivalent with an understanding of network technologies & protocols).
More details at:
www.lancs.ac.uk/ictfocus/eccouncil/CEH
Enrolling now for Foundation Degree Courses (starting October 2007)
We run six Lancaster University- certificated courses, all of which support ICT professionals working in a systems administration or network engineering role in a networked environment. These courses can be combined and used together to achieve a Foundation Degree in Systems or Networking.
More details at:
www.lancs.ac.uk/ictfocus/courses/
To discuss these courses call ICT Focus on 01524 510425
Wed 08 August 2007
Tweet