RSS Feeds
RSS feeds can deliver the latest InfoLab21 news and events direct to your browser without you having to visit the website.
In most browsers you can click on an RSS link and choose to subscribe to the feed to add it to your favourites or bookmarks.
---
IGA Internship Leads to Job Success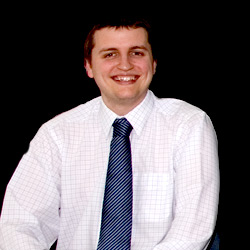 Michael Maud has successfully completed his internship at the InfoLab21 Graduate Academy in the Knowledge Business Centre.
He is leaving at the end of August to begin a new job as Web Officer at Bradford University where he will be managing two of their websites.
Michael joined the IGA in March 2006 and since then has completed several websites and databases for regional businesses. The projects he has worked on have assisted the development of those businesses and increased his own skills and employability.
He said; "The IGA was a perfect springboard for me to get into the IT sector. The environment is challenging, friendly and supportive. I have developed skills in lots of areas and learned a lot from the talented people I work with."
During his internship, Michael has developed skills in the following areas:
Business process / system analysis
Requirements engineering and specification
Software / database / user interface design
Web application development using:

PHP and MySQL
ASP.NET / C#
Adobe Flash and Actionscript
AJAX
CSS

Application development using MS Access / vbscript
Software testing and debugging
Software accessibility issues
Software maintenance
Managing software deployment
Research and Technology translation for clients
Project Management
Graphic design
Mentoring and supervision of student projects
Some of the websites Michael has produced include:
and Actions at Work Ltd, Flash and PHP website development. Michael worked with their existing site to improve functionality and integrate with online software. www.actionsatwork.com
Michael encourages other graduates to apply for the IGA, "This is a great opportunity, work hard and enjoy it, and don't be afraid to ask advice from the people around you."
Two new graduates will be joining the team in October.
Thu 30 August 2007
Tweet