RSS Feeds
RSS feeds can deliver the latest InfoLab21 news and events direct to your browser without you having to visit the website.
In most browsers you can click on an RSS link and choose to subscribe to the feed to add it to your favourites or bookmarks.
---
Business Courses with LU Management School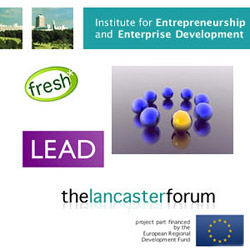 The Institute for Entrepreneurship and Enterprise Development are currently recruiting for a number of their programmes.
Fresh*
fresh* people and fresh* marketing are recruiting for new cohorts running through Nov/Dec. Places are already filling up fast for these extremely popular series of workshops. If you would like more information please contact David Hassall on 01524 510702 or d.hassall@lancaster.ac.uk.
The LEAD Programme
The new cohort of LEAD is due to start on the 25th September. We have a very limited number of remaining places. If you would like to be part of this ground breaking leadership development course please contact Michelle Atkins on 01524 510703 or m.atkins@lancaster.ac.uk
Action Learning Sets
The Management School are also recruiting for Action Learning Sets which bring six or seven business people together to solve problems, share knowledge, experiences and ideas for improving their businesses in a confidential and trusting group of like-minded people. For more information contact Laurie Smith on 01524 510718 or l.d.smith@lancaster.ac.uk
Tue 11 September 2007
Tweet