RSS Feeds
RSS feeds can deliver the latest InfoLab21 news and events direct to your browser without you having to visit the website.
In most browsers you can click on an RSS link and choose to subscribe to the feed to add it to your favourites or bookmarks.
---
£20,000 'Unipreneur' Student Business Award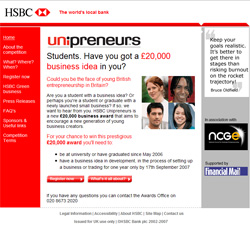 The growing number of students starting up their own business whilst studying at university is to be recognised by new Awards called The Unipreneurs.
The new Awards will showcase some of the most innovative new business ideas that are emerging from the 'unipreneurs', either whilst still at university or within two years of graduating - with £20,000 for the best one.
The government-backed awards, sponsored by HSBC Bank, are presented in association with the National Council for Graduate Entrepreneurship (NCGE), following a recent study that suggests there could be as many as 80,000 students running a campus-borne business - with some already on the way to their first million.
HSBC Head of Business Banking, Huw Morgan, said;
"There is a new breed of young businessmen and women on the block who don't plan to use a good education making money for someone else - we call them the Unipreneurs and we are keen to support them.
"Their academic study has given them an awareness of structure and an appreciation of discipline. They have an understanding of business plans, finance and strategic thinking. They are analytical, creative, focused and so bring a credibility to their business ventures, that makes them enthusiastic and competitive.
"We are delighted to sponsor these unique Awards in association with the NCGE, which will recognise their growing contribution, both to the community and the economy."
NCGE Chief Executive, Ian Robertson, said;
"Today's Unipreneurs are prepared to give their business idea a go - often with a fresh, new approach that has the power to change conventional market thinking. Entrepreneurship is the engine that drives the British economy and the more we can do to help and inspire these young men and women the better it will be for our future and the wealth of our country."
Britain's ultimate Unipreneur will be decided at a gala evening at BAFTA on 23 April 2008, when five finalists will be quizzed live on-stage by a panel of experts about their business and why they deserve the first prize of £20,000. Afterwards, a specially invited audience of 200 guests will vote for the candidate that has impressed them most, and name the person who will walk away with the title and the £20,000.
Those wanting to enter the Awards have until Friday 23 November to make their nomination online at www.unipreneurs.hsbc.co.uk and could be one of the Top 100 who will go through to the final stages of the competition.
For more information, please call Katie Ellerker or Claire Abercrombie at Aspect Communications on 020 8673 2020 / 07960 222 054 / 07790 010 509.
Tue 25 September 2007
Tweet