RSS Feeds
RSS feeds can deliver the latest InfoLab21 news and events direct to your browser without you having to visit the website.
In most browsers you can click on an RSS link and choose to subscribe to the feed to add it to your favourites or bookmarks.
---
Business Support From LU Management School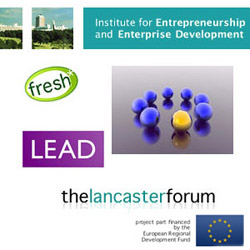 Could your business do with some Financial Management or Marketing support?
Financial Management Support
Lancaster University Management School (LUMS) and the Institute for Entrepreneurship and Enterprise Development (IEED) are offering NW businesses an opportunity to tap into the resources offered by high-calibre international postgraduate students from the MSc in Accounting & Financial Management, and the MSc in Finance.
As part of this scheme companies can employ a student on a placement for up to 6 months and gain from their expertise in:
Accounting and Auditing
Internal Financial Control and Budgeting
Management Control Systems
Financial Statement Analysis
Interviews have already commenced; interested companies should contact Sandeep Sanyal on 01524 510712 or s.sanyal@lancaster.ac.uk.
Fresh Marketing
Marketing is a core activity in the success or failure of any business.
It is estimated that lack of marketing or poor marketing accounts for the failure of 38.1% of SME's in the UK.
The Institute for Entrepreneurship and Enterprise Development have designed an innovative programme for SME's in the North West to improve marketing performance and growth. It's got a proven track record of working and if you are eligible it's completely free.
This is fresh*
When? Tuesday's: 6th, 13th and 20th November, 8.30 am - 4.30 pm
Where? Lancaster University Management School (6th) and the Lancaster House Hotel (13th and 20th)
What's covered?
Introduction to marketing; This thought provoking session provides an overview of what the marketing concept is, introduces you to the programme and highlights the links between the other units.
Market research; This session explains the how, where, when and why to carry out Market Research activities and what a business can achieve through it.
PR and the media; This workshop will teach you how to communicate effectively with your market through Public Relations and the media channels available.
Branding; This workshop explains how to develop a strong, consistent image and brand identity. It also demonstrates how critical it is to have established branding within your marketplace.
Selling; In this workshop we'll help you discover how to successfully sell to and capitalise on new and existing customers.
Marketing Strategy; This strategic session pulls together the fresh* course and establishes marketing in the wider business context.
Eligible Companies: European Regional Development Fund (ERDF) eligible companies located in Preston, Lancaster, Blackpool, the Fylde & Skelmersdale.
Sector: Any business to business
Finally here's a quick recap of what ERDF eligibility is defined as:
less then 250 employees
primarily deal business to business
turnover less then £30m a year
located in an Objective Two fully eligible area (please check on www.objectivetwo.co.uk or please call for details).
Interested?
If you have any questions or would just like to chat about the course feel free to contact David Hassall or Melissa Davies.
01524 510 702/09
M: 07772 967 976
Thu 04 October 2007
Tweet