RSS Feeds
RSS feeds can deliver the latest InfoLab21 news and events direct to your browser without you having to visit the website.
In most browsers you can click on an RSS link and choose to subscribe to the feed to add it to your favourites or bookmarks.
---
IGA Feature - Jo Vincent Glass Design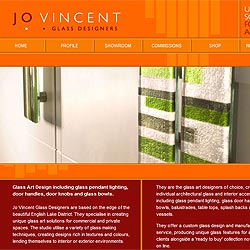 This month's featured InfoLab21 Graduate Academy Project is Jo Vincent Glass Design.
The company specialises in making decorative and architectural glass pieces for both commercial and private customers. It is based on the edge of the Lake District has clients nationwide.
InfoLab21 implemented an online CRM database which is enabling the company to develop a closer relationship with its customers. Assistance also included a brief report outlining possible future improvements to the current use of IT systems, such as a suitable backup strategy and appropriate accountancy software. Assistance was free to the company, fully funded by the European Regional Development Fund.
"Very good service, fast turnaround. Provided lots more help than could have imagined. Knowledge was amazing!"
Jo Vincent, Director, Jo Vincent Glass Design.
Wed 10 October 2007
Tweet