RSS Feeds
RSS feeds can deliver the latest InfoLab21 news and events direct to your browser without you having to visit the website.
In most browsers you can click on an RSS link and choose to subscribe to the feed to add it to your favourites or bookmarks.
---
Vmail First For Resident Company NuBlue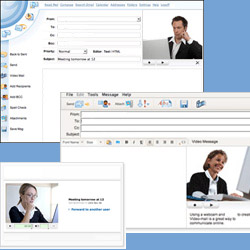 NuBlue Digital Web Solutions based in InfoLab21 have become first UK hosting company to provide video webmail using a simple browser interface.
The service is ideal for home workers who can use it for business communication - putting a 'face to the name', without the need for expensive and time-consuming travel to meetings.
Michael Ashworth, director of NuBlue Digital Web Solutions, says:
"One of the main barriers to home working can be finding a viable substitute for face-to-face discussions. Normal email doesn't always cut the mustard.
"Video email has been around for a number of years and often involved costly additional technology, such as phones and software. However, the technology has advanced and simplified, making it easier to deploy. As a result, we've been working on integrating the webcam application into our webmail system.
"We believe we're the first UK hosting company to offer this service to customers - free of charge and with unlimited video emails - as part of our overall hosting package."
Users quite simply send and receive video emails, complete with motion and sound, through a browser interface (similar to Hotmail). All the user needs is a computer, a webcam and a NuBlue hosting account.
NuBlue believes the timing of its video email launch is perfect, as the latest laptops are being released with built-in webcam technology. "People have become accustomed to webcams," says Ashworth, "and the 'vmail' industry looks set to grow and grow."
He adds: "More than 3.1 million workers in the UK are regularly home-based and, in addition, 39% of small businesses are home-based." (Source)
In addition to being an effective business tool, NuBlue believe that their vmail service will also be a hit with people keeping in touch with friends and family around the world.
Tue 30 October 2007
Associated Links
NuBlue - Business Hosting, Web Development & Marketing
Tweet