RSS Feeds
RSS feeds can deliver the latest InfoLab21 news and events direct to your browser without you having to visit the website.
In most browsers you can click on an RSS link and choose to subscribe to the feed to add it to your favourites or bookmarks.
---
Special Offers on ICT Focus Courses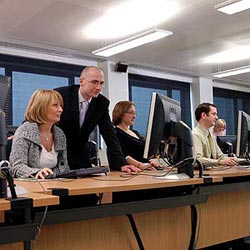 The following special offers are available from the ICT Focus training department at InfoLab21 this month:
20 - 22 November - £405.00 (was £450.00):
MS2543: Core Web Application Technologies with Microsoft Visual Studio 2005
26 - 30 November - £750.00 (was £950.00):
IP Telephony & VoIP
26 - 30 November - £695.00 (was £750.00):
MCDST: MS2261/62: Supporting Users Running the Microsoft Windows XP Operating System/Supporting Users Running Applications on Microsoft Windows XP
MS2261 and MS2262 can be taken as separate courses - please contact us for details.
If you need any information or would like to make a booking - please email ictfocus@lancaster.ac.uk.
Please note this offer cannot be taken in conjunction with any other offer.
Thu 08 November 2007
Associated Links
ICT Focus - An overview of InfoLab21's ICT Training Centre
Tweet