RSS Feeds
RSS feeds can deliver the latest InfoLab21 news and events direct to your browser without you having to visit the website.
In most browsers you can click on an RSS link and choose to subscribe to the feed to add it to your favourites or bookmarks.
---
Artificial Personality Goes Clubbing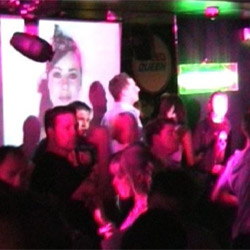 An interactive Artificial Personality pulled faces at nightclubbers in Leeds last month.
This installation work was a collaboration between Lancaster University Department of Computing,the Communication Systems Department, UCREL, KBC resident company BigDog Interactive and Leeds Metropolitan University's Department of Fine Art.
The installation (a giant projected human character) took place on 20th October 2007 at the Speedqueen night in Discotheque/Gatecrasher nightclub in Leeds.
The artificial personality has her own tastes and preferences. Anyone can send the character with a text message from their mobile phone. The character can understand the meaning of the text and reacts emotionally to the content of the message using facial expressions. She can portray a total of 8 different emotions including anger, sadness, happiness, annoyance and so on.
The work is one of a number of currently ongoing collaborations as part of the eMedia Design Lab (eMDL) initiative at Lancaster.
Gatecrasher is currently one of the UK's most influential Clubbing brands with permanent venues in cities around the country as well as annual special events both with the UK and abroad.
Thu 15 November 2007
Tweet