RSS Feeds
RSS feeds can deliver the latest InfoLab21 news and events direct to your browser without you having to visit the website.
In most browsers you can click on an RSS link and choose to subscribe to the feed to add it to your favourites or bookmarks.
---
InfoLab21/Daresbury Networking a Success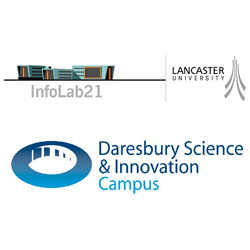 The Knowledge Business Centre hosted a unique networking event this month which has received very positive feedback from those attending.
The event allowed resident and associate Digital/ICT companies of the Knowledge Business Centre at InfoLab21 to meet with visitors and companies from the Daresbury Science and Innovation Campus.
Attendees heard first hand the developments in computational science at each of these UK-leading campuses.
Following short presentations from Steve Riches (Director of the KBC), Prof. Nigel Davies (Lancaster University - Computing Science) and John Bancroft (DIC - Computational Science and Engineering Group) all the attending companies gave a two minute elevator pitch to all present to overview their business, what they felt they could offer other Digital/ICT companies and what they might be looking for from other Digital/ICT companies.
The event adopted a new format for the KBC, pre-releasing details of all attending to those registered for the event and following the two minute elevator pitches, there was an informal networking session allowing all attendees to mix, share ideas and explore possible collaborations.
This format proved a great success with discussions lasting for nearly 2 hours.
Some comments from the event:
"We both thoroughly enjoyed the event. It was well organised, very useful and has provided us with some good contacts which we are now looking to follow up on. We hope you will be organising more of these events which we will be keen to attend."
"It was fantastic to meet and schmooze with other small business people - I now have a collection of business cards"
"Many thanks for putting together a really successful event. There was some excellent networking taking place and this should set a good platform for future events together".
"Thanks for organising yesterday's networking event, I thoroughly enjoyed the experience and picked up a number of useful contacts"
Details of those companies from both establishments who attended can be found in the events archive of the InfoLab21 website:
InfoLab21-Daresbury Networking Event
Wed 14 November 2007
Tweet