RSS Feeds
RSS feeds can deliver the latest InfoLab21 news and events direct to your browser without you having to visit the website.
In most browsers you can click on an RSS link and choose to subscribe to the feed to add it to your favourites or bookmarks.
---
£150 Off Certified Ethical Hacker Course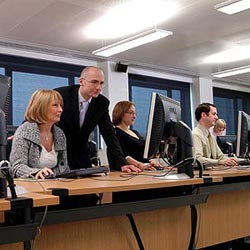 ICT Focus have reduced the cost of the Certified Ethical Hacker (CEH) 4-8 February from £2000.00 to £1850.00.
The course is aimed at IT Security professionals who want to get inside the mind of a hacker.
This 5-day course differs from most security courses in that it teaches how to defend network & systems against hacking by studying in depth at how hackers work. Rather than focussing on security audits the course gives plenty of hands-on experience of attacking systems. By immersing the delegates in the tools and tricks of the "hacking" trade, they learn how to secure their systems & networks against them.
For further information and details of more courses go to the link below or call 01524 510425/7.
Other courses include:
MS2810:Fundamentals of Network Security 5-8 February £600.00
This four-day, instructor-led course provides students with the knowledge and skills to begin supporting network security within an organization. Students who complete this course will be able to identify security threats and vulnerabilities, and help respond to and recover from security incidents.
MS2555:Developing Microsoft .NET Applications for Windows (Visual C# .NET) 18-22 Feb £750.00
The course will cover the major topics for Windows client application programming on the .NET Framework
Wed 16 January 2008
Tweet