RSS Feeds
RSS feeds can deliver the latest InfoLab21 news and events direct to your browser without you having to visit the website.
In most browsers you can click on an RSS link and choose to subscribe to the feed to add it to your favourites or bookmarks.
---
Training Opportunities at ICT Focus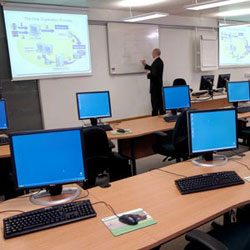 Small Business Server Course
Due to a demand from the companies in InfoLab21, ICT Focus are offering the following course next Month:
MS2395: Designing Deploying and Managing a Network Solution for the Small and Medium-sized Business.
3 days 4th-6th March: £450 (less 10% discount for InfoLab21 Associate Companies)
The goal of this three-day course is to provide students with the skills and knowledge necessary to select, deploy, and manage a Microsoft networking solution for small and medium-sized businesses.
For further course details please use the following link:
Vista courses
Upgrade your MCDST - or simply get started with Vista MS5118 19-21 February & MS5119 18-19 March.
Take both courses together for only £675
This course provide students with the knowledge and skills necessary to install, monitor and maintain Windows Vista computers.
On completion of these two courses the student will be in a position to then take the exam 070-621 to upgrade to MCTIP: Enterprise Support Technician.
For further details please use the following link:
Individual course fees: MS5118 £450: MS5119 £300.
We are also offering Windows Server 2008, & VMware courses - please see our website or call 01524 510425/7
Wed 13 February 2008
Tweet