RSS Feeds
RSS feeds can deliver the latest InfoLab21 news and events direct to your browser without you having to visit the website.
In most browsers you can click on an RSS link and choose to subscribe to the feed to add it to your favourites or bookmarks.
---
NEMO 'Smart-Tags' Feature on BBC Online
Story supplied by LU Press Office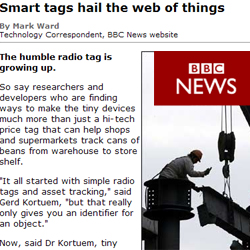 The Computing Department's Dr. Gerd Kortuem and colleagues were quoted on the BBC News Website.
The article on February 5th featured Dr. Korteum talking about their NEMO project that combines smart tags and personal identifiers to keep an eye on people working on construction sites using heavy machine tools.
The NEMO project group are developing a new generation of 'smart tags' to help keep workers safe on construction sites.
The research project is creating tiny Radio Frequency ID (RFID) tags, with sensors and memory, which can be embedded in everyday objects - such as tools - and communicate via a network using wireless technology.
These can be used for example to help monitor people using heavy machinery - ensuring they are working safely within the recommended guidelines.
Smart tags could transform Health and Safety in the modern workplace. For example, the information can be used by employers and workers to monitor their exposure to vibrations from power tools such as drills which can lead to a painful condition called 'vibration white finger'.
In the interview with the BBC online, Dr.Kortuem of InfoLab21's Computing Department, said RFID tags were getting smarter and more communicative as bigger memory, basic processing power and wireless technologies are added to them.
"We are trying to embed a little more intelligence beyond location by adding sensors and by networking these objects together," he said.
The project - known as NEMO (or Networked Embedded Models and Memories of Physical Work Activity) is an EPSRC-Funded Collaborative Research Project.
The project runs for four years, and involves close collaboration with world-leading companies including Agilent, BP, Carillion and In Touch.
It involves Dr. Gerd Kortuem, Professor Nigel Davies, Professor Hans Gellersen, Professor David Hutchison and Dr. Joe Finney, all of the Computing Department, Dr. Jerry Busby, Management School and Dr. Linden Ball, Psychology.
Tue 12 February 2008
Tweet