RSS Feeds
RSS feeds can deliver the latest InfoLab21 news and events direct to your browser without you having to visit the website.
In most browsers you can click on an RSS link and choose to subscribe to the feed to add it to your favourites or bookmarks.
---
Mobile Phones Get Touchy
Story supplied by LU Press Office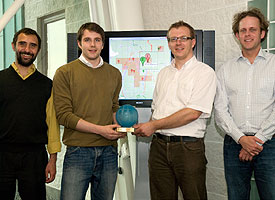 Researchers at Lancaster University are working with a world-leading mobile communication company's research laboratory on new 'touch' technology that will transform the way in which we use our mobile phones.
From picking up electronic vouchers to opening doors, mobile phone users in Japan are already familiar with touch technology - technology which enables people to upload information and even pay for goods by simply waving their phones over dedicated readers or writers.
These touch interactions depend on Radio Frequency Identification or Near Field Communication technology which is for instance used in Ski Passes or the London Transport Oyster card. A chip in the phone can send or receive information when touching corresponding readers, writers or tags.
Researchers at Lancaster University's InfoLab21 are now working with DoCoMo Communications Laboratories Europe GmbH (DoCoMo Euro-Labs), one of the research laboratories of NTT DoCoMo, a world leading mobile communication company based in Japan, to take this touch technology one stage further, opening the door to multiple connections and services.
Multitag
The two-year research project called Multitag is funded by DoCoMo Euro-Labs and this is first time that this laboratory has collaborated with Lancaster University.
One concrete prototype currently in joint development is a system which uses a mobile phone as a smart stylus. Using this approach, a mobile user interacts with a display touching it with a mobile phone.
An application of this technology has been demonstrated at this year's NFC Forum Competition in Monaco: in a tourist information system a person can touch an interactive map to download information in efficient ways. At the NFC Forum Competition this system was awarded the first prize for research. Winners were selected from a total of 20 finalists and over 50 entries from 21 countries.
Dr. Enrico Rukzio who is based in Lancaster University's InfoLab21 said:
"This research could lead to all sorts of possible uses for our phones. At the moment we are limited to one touch interaction at a time, but if we can multiply these interaction possibilities we could do so much more. Imagine going to a restaurant and ordering a meal by touching the corresponding menu items with your phone."
He added: "Although Japan is much further ahead with touch technology than the European market, I would expect this technology to start becoming more popular in the UK over the next few years."
Researchers leading the Multitag project in the Computing Department are Dr. Enrico Rukzio, Robert Hardy and Professor Hans Gellersen.
A short video of the demo is available on the Euronews website. Please follow the Euronews link below.
Fri 23 May 2008
Associated Links
MULTITAG Project - a research project launched in January 2008 between Lancaster University's Computing Department and NTT DoCoMo Euro-Labs, with the goal of developing new methods and applications for mobile interactions with multi-tagged objects
Tweet