RSS Feeds
RSS feeds can deliver the latest InfoLab21 news and events direct to your browser without you having to visit the website.
In most browsers you can click on an RSS link and choose to subscribe to the feed to add it to your favourites or bookmarks.
---
Big Chip Award For InfoLab21 Associate
Story supplied by LU Press Office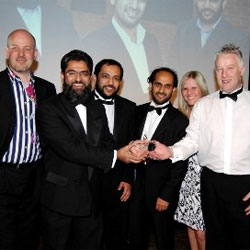 Associate Company of InfoLab21, eBusiness UK Ltd, won a Big Chip award for the Best Use of Search for their work for the firm RU Comfy.
Established in 1998 and based in Blackburn, eBusiness UK Ltd is one of North West's leading Web Design and Search Engine Marketing companies, enabling companies to promote their brands more effectively.
Managing Director Kam Kothia said: "To be recognised by your peers is a big boost for our staff and we're delighted. The advice and support we've got from the University has made a definite improvement, especially from a team of high calibre MBA students who came in and made recommendations on how we could improve some aspects of our delivery processes."
RU Comfy employed eBusiness UK to help promote its business online and, through the use of smart search engine optimisation techniques, they cut advertising bills from £120,000 to a predicted £50,000 whilst seeing an increase in orders.
The judges said that paid search marketing should focus on achieving efficiencies and return on investment.
They said: "Not only did the winner focus on keyword-based optimisation to increase page dominance, they examined the user journey and made improvements. By redesigning the website and e-commerce processes and encouraging customer interaction through the introduction of social media such as blogs and product wish lists, they managed to increase RU Comfy's ROI from search dramatically."
The Big Chip Ten, the North West's premier digital industry awards, took place on May 22nd in Manchester. InfoLab21 resident company EduNation Ltd won two awards.
Tue 27 May 2008
Tweet