RSS Feeds
RSS feeds can deliver the latest InfoLab21 news and events direct to your browser without you having to visit the website.
In most browsers you can click on an RSS link and choose to subscribe to the feed to add it to your favourites or bookmarks.
---
Lancashire Investment Panel 'Excellent'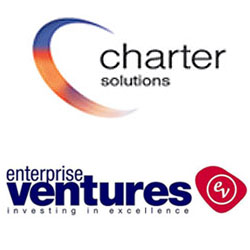 InfoLab21 Associate Company, Charter Solutions launched its first Lancashire Investment Panel last week to help growing companies access the right kind of finance.
Mark Robinson, Director of Escendency Ltd, a web-based strategy mapping and reporting technology company based at InfoLab21 said the advice he received was excellent.
Mark was one of the first people to make a short pitch to the panel of five.
"It was a bit daunting," he said. "However, I really feel I got an opportunity to present my business to a group of very professional and accomplished, successful people who looked at things from different perspectives and experiences from banking to legal - right across the board."
"It certainly made me stand back from my business and question various things," he added. "Some excellent advice came out of this on future routes to market and the panel put it all very succinctly. They looked from the outside in which was great."
Charter, an award-winning management consultancy firm, partnered with Enterprise Ventures, one of the region's leading providers of venture capital and private equity, to get the project off the ground.
Richard Bamford, Enterprise Ventures Executive Chairman, said "As a first panel it was a great success and I do believe those presenting benefited from the experience and went away with some sound advice to follow-up on."
The Panel, comprised Charter's Trevor Bargh, Enterprise Ventures Richard Bamford, Joyce Tombs, of Moore and Smalley, Gill Gardner, of Oglethorpe, Sturton and Gillibrand and Kevin Sanderson, from the Yorkshire Bank.
Charter's Managing Director Trevor Bargh said: "Each company had some great ideas. The Panel helped to focus those ideas in the right direction. We are now looking forward to the next session."
The next Lancashire Investment Panel session is lined up for 4th September when already four companies are set to make a pitch.
For more information please contact Theo Millward at Charter on 01524 846847.
Mon 16 June 2008
Tweet