RSS Feeds
RSS feeds can deliver the latest InfoLab21 news and events direct to your browser without you having to visit the website.
In most browsers you can click on an RSS link and choose to subscribe to the feed to add it to your favourites or bookmarks.
---
P2P - A New Approach To Distributing Television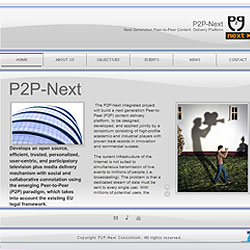 Researchers from Computing in collaboration with Pioneer Digital Design carried out a workshop with students helping create a new approach to distributing television across the internet.
The workshop was carried out in relation to the P2P-Next project, a pan-European conglomerate of 21 industrial partners, media content providers and research institutions which has received a £14 million grant from the European Union.
"The aim of the workshop was to discuss the future of Internet based TV services and specifically a service based around the use of peer-to-peer (P2P) technology for future distribution of Television" says Dr. Keith Mitchell.
"We were very pleased with the level of student interest, involvement and enthusiasm during the session despite it being a busy time of year for them. Although we are yet to fully analyse the results, there were numerous contributions by the participants and these will act as valuable input into the project".
The ambitious 4 year project will conduct large-scale technical trials of live streaming and Video on Demand (VOD) services which will be delivered to users through both PC clients and a High Definition digital set top box. The user trials will involve students on campus and residents in local communities, such as Wray.
Tue 15 July 2008
Associated Links
P2P-Next - next generation peer-to-peer content delivery platform
Tweet