RSS Feeds
RSS feeds can deliver the latest InfoLab21 news and events direct to your browser without you having to visit the website.
In most browsers you can click on an RSS link and choose to subscribe to the feed to add it to your favourites or bookmarks.
---
Associate Company Celebrates 1st Birthday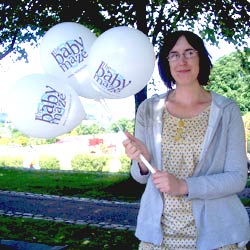 One year on and InfoLab21 Associate Company 'The Baby Maze', a website aimed at all expectant parents and families with young children in the Morecambe Bay area, is going from strength to strength.
Director Claire Walker says,
"I'm constantly striving to keep the information up-to-date and to add more content - such as the brand new section about local Children's Centres. The hard work involved in running www.babymaze.co.uk has been worth it as I've had such positive feedback from parents and health professionals who all use the site regularly."
Claire, a Lancaster University graduate with a background in publishing, launched the website after the birth of her first child.
"While I was pregnant I realised that a lot of local baby-related information is passed on by word of mouth, making it difficult to access. Having spoken to other expectant parents it became clear that a one-stop website would be really useful and the idea for `The Baby Maze' was born".
Mon 30 June 2008
Associated Links
Tweet