RSS Feeds
RSS feeds can deliver the latest InfoLab21 news and events direct to your browser without you having to visit the website.
In most browsers you can click on an RSS link and choose to subscribe to the feed to add it to your favourites or bookmarks.
---
New P2P Technology Debuts At International Broadcasting Exhibition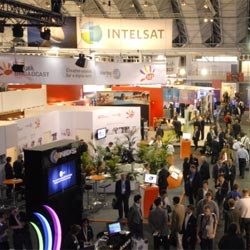 InfoLab21 researchers Dr. Nick Race, Dr. Keith Mitchell and Dr. Johnathan Ishmael have been involved in introducing a cutting-edge peer-to-peer (P2P) video distribution system at this year's International Broadcast Convention (IBC 2008) in Amsterdam.
The new system is the world's first video end-to-end streaming distribution of professional content to low-cost Set Top Box hardware. InfoLab21 was acting as the source of the video streams on show.
The annual IBC exhibition showcases all the latest technology and foremost business ideas in broadcasting and media.
Drs Race, Mitchell & Ishmael are based in Lancaster University's Computing Department, a key partner of The P2P-Next Project. The P2P-Next Project is a consortium of 21 partners, including broadcasters, technical universities and hardware vendors, who are developing NextShare, a new, software-based, legal, peer-to-peer distribution system.
The first version of NextShare, an Open Source P2P (Peer-to-Peer) video delivery platform was released at IBC 2008.
Martin Butcher of Krypton TV Ltd, InfoLab21, also attended the IBC exhibition and commented;
"The demonstration of live streaming P2P attracted a significant interest from key broadcasters, keen to see how this technology can enable next generation internet based broadcasting, without an exponential requirement for video servers and bandwidth. That a demonstration of this quality has been achieved within the first six months of a four year EU project was particularly impressive."
Krypton TV Ltd designs and supplies solutions for digital switch-over and the convergence of Broadcast and Internet TV and is one of InfoLab21's resident companies.
Lancaster University's Computing Department and InfoLab21 companies are leading in this area of research and over the next four years, researchers from the Computing Department will co-ordinate a series of large-scale technical trials of the NextShare platform on a wide range of consumer devices and PC platforms.
The project has an open approach towards sharing results. All core software technology will be available as open source, enabling new business models. P2P-Next will also address a number of outstanding challenges related to content delivery over the internet, including technical, legal, regulatory, security, business and commercial issues.
To participate in future trials, please visit the project trials site - www.livinglab.eu
Mon 20 October 2008
Tweet