RSS Feeds
RSS feeds can deliver the latest InfoLab21 news and events direct to your browser without you having to visit the website.
In most browsers you can click on an RSS link and choose to subscribe to the feed to add it to your favourites or bookmarks.
---
Kinetic Cubed Chosen For Innovation Voucher Scheme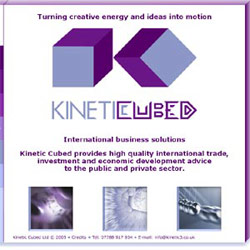 InfoLab21 resident company Kinetic Cubed has been selected by the North West Development Agency as one of the few private sector Knowledge Providers for the newly launched Innovation Voucher Scheme.
This scheme offers vouchers to companies, up to the value of £3000, which can then be used to access expertise through one of the selected knowledge providers in the region, to achieve their goals.
Kinetic Cubed, a provider of international business and innovation solutions, are experts on the emerging economies, especially the BRIC's (Brazil, Russia, India, China) and Gulf markets and can offer their unique experience and knowledge to companies on the scheme who wish to commercialise their innovative products, services or knowledge internationally.
The Innovation Voucher Scheme
The Northwest Regional Development Agency (NWDA) and the Northwest ERDF Programme have launched the new Innovation Voucher scheme to help support and grow the Northwest economy.
With the support and investment of the new ERDF programme, the NWDA will deliver the £4.1m scheme designed to encourage business to engage proactively with the Northwest knowledge base, including colleges and universities. The funding consists of £2m ERDF and £2.1 from the NWDA.
The scheme aims to encourage 1100 businesses to interact with the FEI's and HEIs across the Northwest over the next 2 years.
Lancaster University has been confirmed as a supplier for the Innovation Voucher Scheme and more details are available at the link below.
Further Successes
Kinetic Cubed recently picked up a new export order from a new client in France to look at helping them attract inward investment from India.
Director Mark Beresford is also pleased to announce that they have won a piece of research work to look at international business opportunities in Russia for East Midlands companies as well as a long term contract to develop links between businesses in Wales and Turkey.
As experts in their field, this week they are attending an Innovation event in Paris, and are speaking on BRICs markets at ProManchester in Manchester.
InfoLab21 Resident
As one of InfoLab21's resident companies since 2006, Kinetic Cubed's Gaynor Campbell spoke of some of the benefits of being located in InfoLab21's Knowledge Business Centre:
"Being in KBC has enabled us to meet likeminded businesses and share ideas. We have also been able to take advantage of networking opportunities presented to us by KBC staff which has allowed us to tap into the international expertise housed within InfoLab21 and the University in general."
Kinetic Cubed
Kinetic Cubed can help with:
Programme and Network Management
Advice on International Science, Technology and Innovation Collaborations
Business/Innovation Quests and Learning Journeys
Commercialising University Knowledge and Research
International Knowledge Transfer Support
International(isation) Strategy
To contact Kinetic Cubed, please visit the website below or email Mark Beresford mberesford@kinetic3.co.uk.
Tue 18 November 2008
Associated Links
Tweet