RSS Feeds
RSS feeds can deliver the latest InfoLab21 news and events direct to your browser without you having to visit the website.
In most browsers you can click on an RSS link and choose to subscribe to the feed to add it to your favourites or bookmarks.
---
InfoLab21 Director Joins 'Distinguished Professor' Group
Story supplied by LU Press Office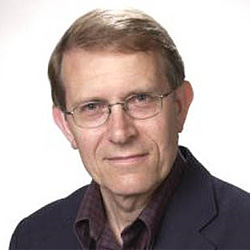 Professor David Hutchison, Director of InfoLab21, has become one of the latest to join Lancaster University's new senior group of 'distinguished professors'.
The title of Distinguished Professor is reserved for limited number of star academics who are internationally recognised as world leaders in their field.
Professor Hutchison is regarded as one of the world's leading academics in the field of Quality of Service for telecommunications and computer networks. He was an originator of the European Network of Excellence in computer networking (E-NEXT) which linked 40 of the best computer networking labs throughout Europe.
He has been serving as an evaluator and reviewer for the European Commission since the mid 1990s. Service in the UK has included being a member of the OFTEL technical advisory board and chairing the EPSRC/DTI Grid Network Team in the e-Science programme. He has been a member of the Advisory Board at Simula, the Norwegian national research lab in IT and Communications, and carried out technical evaluations at key Universities in Europe.
He is a Fellow of the BCS and IET, and has served on the technical programme committees of the main conferences in his area of work. He is an editorial board member of the international Springer-Verlag Lecture Notes in Computer Science Series, with responsibility for computer networks and telecommunications. He is also Editor of the Wiley book series in Communications, Networks and Distributed Systems. David Hutchison is a founder member of the UK Knowledge Transfer Network in digital communications.
Fri 14 November 2008
Tweet