RSS Feeds
RSS feeds can deliver the latest InfoLab21 news and events direct to your browser without you having to visit the website.
In most browsers you can click on an RSS link and choose to subscribe to the feed to add it to your favourites or bookmarks.
---
Courses Coming Up With ICT Focus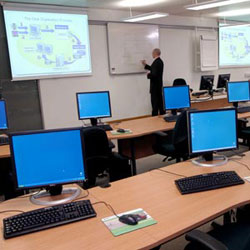 Don't miss your last chance to book the following course at InfoLab21's training centre:
Microsoft Certified Desktop Support Technician (MCDST) course:
MS2261: 2-4 February £450.00
MS2262: 16-17 February £300.00
(Book both courses to receive a 5% discount)
The MCDST credential proves that you have the skills to successfully support end-users and to successfully troubleshoot desktop environments that are running the Microsoft Windows operating system.
www.microsoft.com/learning/mcp/mcdst/requirements.mspx
Also coming up:
CEH v6: Ethical Hacking & Countermeasures Course
23-27 March £1650.00
This EC-Council course will immerse the student into an interactive environment where they will be shown how to scan, test, hack and secure their own systems. The lab intensive environment gives each student in-depth knowledge and practical experience with the current essential security systems. This course prepares you for EC-Council Certified Ethical Hacker exam 312-50.
www.lancs.ac.uk/ictfocus/vendor/CourseDescr.php?code=CEH5
All course prices are exempt from VAT. Further reductions may be available for InfoLab21 Associate Companies
For more information on these and other courses, go to the ICT Focus website below or call 01524 510425/7.
Tue 13 January 2009
Tweet