RSS Feeds
RSS feeds can deliver the latest InfoLab21 news and events direct to your browser without you having to visit the website.
In most browsers you can click on an RSS link and choose to subscribe to the feed to add it to your favourites or bookmarks.
---
Escendency Moves Onwards And Upwards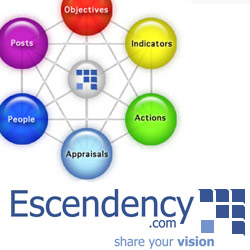 Former InfoLab21 resident company Escendency have now grown up and flown the nest to start the New Year in their new offices in Lancaster city centre.
After a three year incubation period in InfoLab21 the intensive development period of their web-based SMART system, whilst continuing, is evolving into the next phase of deployment to their increasingly diverse customer base.
During 2008 Escendency grew over 22% but this is projected to accelerate, despite the economic recession, to over 100% in 2009.
Now located opposite historic Lancaster Castle, Escendency have tripled their office space to cope with the expansion.
Managing Director Mark Robinson said, "We would like to particularly thank the Knowledge Business Centre staff and academics for all their support and encouragement during our incubation period at InfoLab21. We will never forget the time and the people there and we'll be certain to stay in touch."
Escendency's SMART system reports any organisation's progress towards any or all their strategic objectives in real-time by directly connecting the contributions from the people in the organisation through personally customisable dashboards.
The system is scalable and so is applicable to organisations of any size.
Earlier this year telecoms giant BT Group joined Escendency's ever expanding list of clients. BT will use the Escendency web-based SMART System to monitor, manage and report activities regarding the environment, climate change, sustainability and corporate social responsibility operations globally.
At the other end of the scale the system is now being taken up by SMEs to monitor and manage such things as quality compliance and financial health.
Other customers include: a special school to monitor pupil's progress and individual learning plans; a neighbourhood management team to help close the economic and social gap; the NWDA and its partners for their climate change action plan across the whole of the north west of England; Local Authorities and Universities for strategic planning and reporting to stakeholders.
For more information please go to the link below.
Fri 16 January 2009
Tweet