RSS Feeds
RSS feeds can deliver the latest InfoLab21 news and events direct to your browser without you having to visit the website.
In most browsers you can click on an RSS link and choose to subscribe to the feed to add it to your favourites or bookmarks.
---
First Live Link Up For 'Chernobyl' Town
Story supplied by LU Press Office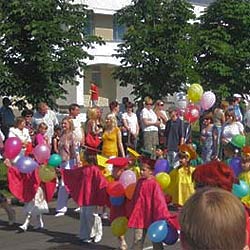 Children in a town affected by the Chernobyl nuclear disaster will talk to pupils in England in a "TV" broadcast using wireless broadband installed by Lancaster University.
For the town of Slavutych in the Ukraine, it will be the first live link up with the outside world over the internet and is part of a £750,000 Government project to regenerate the area.
Professor Garik Markarian of the Department of Communication Systems at InfoLab21 helped to design the wireless broadband system.
He said: "We asked people what they wanted from the internet and it was a long list from banking to publishing. This system has created wireless hotspots around Slavutych as well as a public access centre for those who do not have computers at home. The work was carried out by a local company with the value-added services such as video broadcast being delivered by Rinicom, a technology company in Lancaster."
The official handover of the network from the UK Government to the town on March 27 will also see a Government minister in London take part in the internet broadcast with the Mayor of Slavutych and the British Ambassador to the Ukraine, who will be standing in the town square by a monument to the victims of Chernobyl.
Slavutych was built after the accident in 1986 to house evacuated workers from the Chernobyl nuclear power plant and the abandoned town of Pripyat, but a lack of internet access has hampered economic growth. The town's population is expected to double as businesses take advantage of connectivity to create jobs.
Before the creation of the internet network, there was a limited dial up connection and difficulty connecting internationally. Staff had to post CDs of documents abroad or physically carry them between offices in Slavutych. Now the new Town Information Network will link up to 54 municipal buildings and revolutionise the way businesses and educational organisations operate.
Larisa Nikitenko, Director of the Slavutych Business Development Agency and local project manager for the communications project, said: "We expect the population of the town to double as businesses create jobs facilitated by the new ICT system, which will be operated by a "social enterprise", so the profits will go back into the local community."
The installation of wireless broadband is part of the UK Government funded programme to address the "Social and Economic Consequences of Nuclear Power Plant Closure Programme". This programme forms part of a much larger UK government funded programme to address the nuclear, chemical and biological legacies of the Former Soviet Union. Further information on this UK programme can be viewed online from: www.berr.gov.uk/whatwedo/energy/non-proliferation/global-threat-reduction/ar-english/page40802.html
Mon 16 February 2009
Associated Links
InfoLab21 Helps New 'Chernobyl' Town Go Online - Article from 24 November 2008
Rinicom - InfoLab21 associate company - a leading designer and manufacturer of COFDM wireless video surveillance systems for civilian, military, aviation, professional security and "Blue Light Response" services
Tweet