RSS Feeds
RSS feeds can deliver the latest InfoLab21 news and events direct to your browser without you having to visit the website.
In most browsers you can click on an RSS link and choose to subscribe to the feed to add it to your favourites or bookmarks.
---
15secondTV Powers Street Fighter Campaign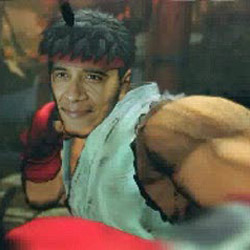 InfoLab21 resident company 15secondTV is powering a global online viral marketing campaign for the new Street Fighter IV game.
Users can upload their own photos and star in video clips as their favourite characters from the game. Then they share the clips with friends on social networks, blogs and emails.
With 12 characters to choose from and options to challenge friends and share on across all digital media the campaign is taking off ahead of the Street Fighter launch date of 20th February 2009.
15secondTV CEO Dominic Wood said
"15secondTV is a world leading viral marketing technology. Simple for the user. Simple for the advertiser. Our personalised clips can be accessed from any website or social network using our customisable widgets.
"15secondTV is a proprietary end-to-end solution with viral marketing campaigns scalable to 100 million personalised viral videos per month."
Street Fighter is a global game franchise, players compete using different fighters each with their own special moves. The first arcade game was released by Capcom in August 1987.
The Street Fighter IV viral marketing campaign is powered by 15secondTV with agency The Picture Production Company and client Capcom, Inc.
Tue 17 February 2009
Tweet