RSS Feeds
RSS feeds can deliver the latest InfoLab21 news and events direct to your browser without you having to visit the website.
In most browsers you can click on an RSS link and choose to subscribe to the feed to add it to your favourites or bookmarks.
---
InfoLab21 Experts Boost SMEs In Innovation Voucher Scheme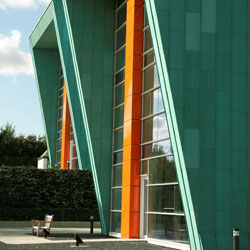 InfoLab21 academics are sharing their expertise with SMEs on the new Innovation Voucher scheme.
The Innovation Voucher scheme aims to support Small to Medium Enterprises (SMEs) in engaging with the knowledge base (Further and Higher Education Institutions and the wider public sector), with the aim of helping SMEs increase productivity and/or competitiveness.
Lancaster University is one of 27 approved Innovation Voucher Knowledge Providers in the region. In the first round of 100 vouchers (allocated in Dec 2008) 11 SMEs chose to work with Lancaster University and of those, seven are being delivered by InfoLab21.
The project is particularly aimed at supporting initial interaction with SMEs that have not been able to work with the knowledge base in the past and to help them realise the benefits of partnering with academia.
The scheme supports these initial interactions by providing a £3,000 voucher to the SME and by brokering contact with experts in the region. The voucher and support should help to ensure that many SMEs will continue to work with the 'knowledge base' in the future on more in-depth interactions such as KTPs (Knowledge Transfer Partnerships).
InfoLab21 resident company Kinetic Cubed, a specialist provider of high quality international innovation and knowledge transfer solutions, is also on the list of providers.
The Northwest Regional Development Agency (NWDA) and the Northwest ERDF Programme launched the Innovation Voucher scheme in October of 2008 to help support and grow the Northwest Economy.
Further rounds of the Innovation Voucher Scheme, including the larger £7,000 vouchers available at the end of 2009, are scheduled on the NWDA website, along with details of how to apply.(see associated links).
For further information on how InfoLab21 supports the Innovation Voucher Scheme please contact Nick King or Colin McLaughlin:
c.i.mclaughlin@lancaster.ac.uk
Mon 16 February 2009
Associated Links
Tweet