RSS Feeds
RSS feeds can deliver the latest InfoLab21 news and events direct to your browser without you having to visit the website.
In most browsers you can click on an RSS link and choose to subscribe to the feed to add it to your favourites or bookmarks.
---
Blood, Maths and Magic - Science and Engineering Week at Lancaster
Story supplied by LU Press Office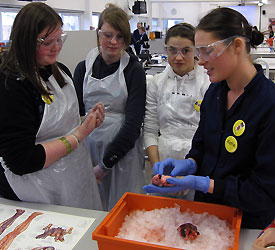 Students from schools across the region have taken part in activities devised and run by Lancaster's Faculty of Science and Technology as part of National Science and Engineering Week 2009.
On Wednesday, March 11, GCSE students from schools across Lancashire and Cumbria quenched their curiosity by taking part in a practical session to find out exactly what blood contains. The students examined the different components of sheep's blood by preparing a blood smear on a microscopic slide to identify the different kinds of cells.
Aimed at Year 10 and 11 students, the workshops from 9th to the 13th of March set out to promote science and technology, encouraging young people to take the subjects further.
Sessions ranged from Psychology where students had the chance to experience how the mind can be deceived by illusions of vision, audition and attention to Communication Systems where they learnt how to develop animation and design simple computer games.
Other events included rocket launching and robot racing.
A lecture on Friday 13th taught students how to get rich and famous using GCSE Maths. This idea was based on multi-million pound global industries such as 'Google', which was initially based on simultaneous equations. Those taking part discovered that they already had enough mathematical knowledge through their GCSEs to have come up with the vast money-generating idea themselves.
Science and Technology partnerships Officer, Alan Darragh said: "Around 180 students attended the various sessions this week and the feedback from teachers and pupils has been really positive.
"For many of the students this was their visit to a University and we hope this inspires them to continue studying Science at school and beyond."
Chris Holland, Head of Science at Carnforth High School, said: "The resources, equipment and expertise available here gave students a taste of what they can achieve in an environment outside school.
"People learn best by doing and today they received a real hands-on experience of what science in the real world is like, which would hopefully encourage them to continue with it in the future."
Fri 13 March 2009
Tweet