RSS Feeds
RSS feeds can deliver the latest InfoLab21 news and events direct to your browser without you having to visit the website.
In most browsers you can click on an RSS link and choose to subscribe to the feed to add it to your favourites or bookmarks.
---
InfoLab21 Workshops Are A Big Hit With Schoolchildren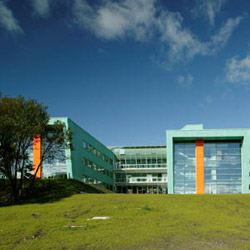 A grant of just under £3,000 from the Joy Welch Educational Charitable Trust is providing about 200 secondary schoolchildren from 10 local schools with a valuable opportunity to learn the basics of computer programming in InfoLab21.
InfoLab21's Dr. Phillip Benachour, from the Department of Communication Systems, applied for the funding last year to transport local schoolchildren onto campus for hands-on computer animation sessions throughout this academic year.
One school has requested a second visit for more of their children to benefit from the experience -they have been invited next term.
The programme has been a big hit with participating pupils and teachers, all of whom have given very positive feedback. One teacher said that it had helped some of her pupils when choosing their GCSE options. They very much enjoyed and appreciated the whole experience of visiting Lancaster University for a day and the University hopes to extend the programme for another year.
Sponsorship
If anyone would be interested in sponsoring or contributing to a schools project (Computer Animation in InfoLab21, Mini-beasts in Schools, Wave Power Challenge Competition or Go-kart Scavenge in the Engineering Department) please contact Julia Resenterra, Trusts & Foundations Officer, Alumni & Development Office:
Telephone: 01524 593676 / E-mail: j.resenterra@lancaster.ac.uk
'An awesome day'
These Year 9/11 pupils from Carnforth High (possible computer programmers of tomorrow) said it all in their own unique way:
"The day was really good and exciting. I enjoyed the work and learned about animation and codes which was very interesting" said Chris.
"It was an awesome day!! The stuff we did was really fun! The staff were nice and helped us if we got stuck! We learnt quite a lot about a new software we had never used!!!" said Hayley.
And Keira J said;
"It was a good and enjoyable day. We learnt a lot about animation that we did not know. Really fun and I learnt alot more about Macromedia Flash and how to use it. I have also learnt how to use the animation on Macromedia Flash. Then we went for lunch in a conference room in the orange/green building. It was VERY nice and the coke and cheesecake were awesome too."
Thu 02 April 2009
Tweet