RSS Feeds
RSS feeds can deliver the latest InfoLab21 news and events direct to your browser without you having to visit the website.
In most browsers you can click on an RSS link and choose to subscribe to the feed to add it to your favourites or bookmarks.
---
InfoLab21 Associates Companies Collaborate to Launch New Show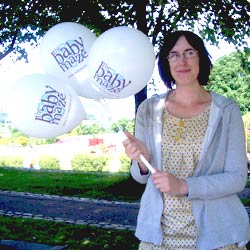 InfoLab21 Associate companies Quay Creative and The Babymaze are collaborating to stage a baby and toddler show on Sunday 10th May 2009 at Lancaster and Morecambe College.
The event is the first of its kind in the area and will include approximately 30 exhibitors, fashion shows and a range of activities including dance demonstrations, story time, baby yoga and essential information and advice from health professionals.
Both successful businesses are Lancaster-based and owned and managed by local mums.
Quay Creative specialises in business communication, producing cost-effective solutions in print, on the internet and through DVD and video production. www.thebabymaze.co.uk provides an extensive online resource for parents and families with young children in the Bay area and was launched by Claire Walker, a Lancaster University graduate, after the birth of her first child.
"It was while I was pregnant that I realised that a lot of baby information is passed on by word of mouth, making it difficult to access. Having spoken to other expectant parents it became clear that a one-stop website would be really useful and the 'Baby Maze' was born."
As InfoLab21 Associates Companies, both Quay Creative and The Babymaze benefit from online profiles on the highly ranked InfoLab21 website.
Since the Babymaze website went live in 2007 it regularly gains over 600 visits and more than 1,900 page views per week. Having seen how rapidly interest in the site has spread throughout the district, The Babymaze recognised the potential for a baby show in the area and contacted Quay Creative to help organise the event.
"I have had such positive feedback from both parents and health professionals who all use the site regularly, I thought it was time to bring everyone together for a fun family day out" she says.
The Babymaze Baby and Toddler Show 2009 will be held in the Hexagon building at Lancaster and Morecambe College on Sunday 10th May 10am to 4pm. There will be various free samples and discounts available on the day, with free entry, free parking and a free copy of the show guide.
For more information please contact Claire Walker on 01524 381170 or email claire@babymaze.co.uk
Wed 22 April 2009
Tweet