RSS Feeds
RSS feeds can deliver the latest InfoLab21 news and events direct to your browser without you having to visit the website.
In most browsers you can click on an RSS link and choose to subscribe to the feed to add it to your favourites or bookmarks.
---
Government Praise For InfoLab21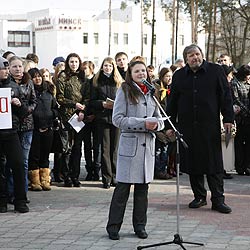 The Government has called Lancaster University "the UK's Centre of ICT Excellence" following the completion of an InfoLab21 project to install wireless broadband in a town in the Ukraine.
A team led by Professor Garik Markarian from the Department of Communication Systems at InfoLab21 installed the Slavutych Town Information Network as part of a UK Government funded programme to address the "Social and Economic Consequences of Nuclear Power Plant Closure Programme".
Slavutych was built to house workers evacuated after the Chernobyl nuclear disaster of 1986 but a lack of internet connectivity has hampered job creation.
'UK's centre of ICT excellence'
Trevor Hayward, Deputy Head of the Global Threat Reduction Programme at the Department of Energy and Climate Change, said: "Lancaster University is, in the fullest sense, the UK's Centre of ICT Excellence and will, I am sure, remain at the forefront of ICT technological advancement for the long-term, although I am sure that Lancaster University will ensure "longterm" will happen in a much shorter time-frame."
He also praised Prof Markarian and his team of "young dynamic experts" who designed the system.
Professor Garik Markarian said: "Part of our role is to investigate how technology can improve people's lives. Every indication is that providing high speed access to the web and creating new, information based services, will advance the standard of living for all Slavutych residents and, more importantly, help to attract new businesses."
The webcast began with a link up between the UK Government Minister of State at the Department for Energy and Climate Change (DECC) Mike O'Brien in Whitehall and the town square of Slavutych, where Ukrainian government representatives joined local townspeople in welcoming the handover of the network.
Mr O'Brien said: "I hope that this high speed system will help to attract new hi-tech business - nuclear and others - to make productive use of the highly qualified and skilled people in Slavutych."
The town's population is expected to double as businesses take advantage of connectivity to create jobs. Following the Minister's address, children from Central Lancaster High School used the live telecast to see and speak to pupils from Slavutych Lyceum.
The headteacher of Central Lancaster High School Jon Wright said he intended to continue the link with the school in the Ukraine.
He said: "It's fantastic for the students to be able to talk with students in the Ukraine and it has a huge impact on them to hear direct from students of a similar age what life is like there."
'21st century e-city'
The Mayor of Slavutych, Volodymyr Udovychenko, said: "Slavutych might be Ukraine's youngest City but we are learning fast! We have a vision for the future which will see our town transformed into a ground breaking 21st century e-city."
Before the creation of the internet network, there was a limited dial up connection and difficulty connecting internationally. Staff had to post CDs of documents abroad or physically carry them between offices in Slavutych. Now the new Town Information Network will link up to 54 municipal buildings and revolutionise the way businesses and educational organisations operate.
Thu 23 April 2009
Associated Links
InfoLab21 Helps New 'Chernobyl' Town Go Online - Article from 24 November 2008
Rinicom - InfoLab21 associate company - a leading designer and manufacturer of COFDM wireless video surveillance systems for civilian, military, aviation, professional security and "Blue Light Response" services
Tweet