RSS Feeds
RSS feeds can deliver the latest InfoLab21 news and events direct to your browser without you having to visit the website.
In most browsers you can click on an RSS link and choose to subscribe to the feed to add it to your favourites or bookmarks.
---
Technology Matters Presentation Slides Available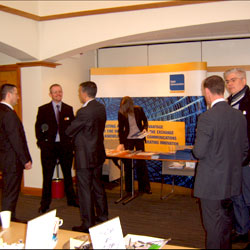 Presentation slides of our latest Technology Matters event are now available to downlaod from our website.
The event was held in collaboration with the Digital Communications Knowledge Transfer Network (DC-KTN) to look at Collaborative Funding and Partnering opportunities in the Digital & Creative Industries Sector.
Thank you to all who attended, we had our biggest turnout so far and were pleased to recieve such positive feedback with 92% of people rating the content either Excellent or Very Good and 100% of people saying they would recommend our events to others.
The presentations are linked to below. For more details on the event and related information please see the event details, also linked to below.
Wed 29 April 2009
Tweet