RSS Feeds
RSS feeds can deliver the latest InfoLab21 news and events direct to your browser without you having to visit the website.
In most browsers you can click on an RSS link and choose to subscribe to the feed to add it to your favourites or bookmarks.
---
Free Flights To Aid Global Expansion of UK SMEs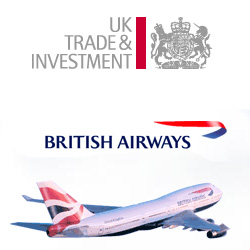 British Airways has offered UK Trade & Investment (UKTI) 4,000 international return flights for its UK-based SME customers.
The offer aims to help enterprising companies make essential trips to grow their business abroad in these difficult times.
Minister for Trade and Investment Lord Davies of Abersoch said this offer will help small and medium sized companies look to new business horizons.
He stated "This exciting initiative has enormous potential. It shows what can happen when big business and Government work together to support British firms and the economy. Although the global slowdown has meant increased challenges for businesses, it has also created opportunities internationally for those that want to expand into new markets."
"Exporting companies are more competitive and resilient. Yet many SMEs can find it hard to break into new markets on their own. They overestimate the barriers and underestimate the rewards of exporting to key markets. This generous offer by British Airways significantly reduces the costs faced by UK exporters, allowing them to explore their overseas expansion potential."
Qualification for Scheme and Application
The initiative is designed to support UK SMEs, relatively new to exporting or establishing themselves in new markets, who are working with UKTI as part of their strategy to develop their business internationally.
The definition of a SME is a company that has fewer than 250 employees, has either an annual turnover not exceeding £50 million (approximately £24 million) or an annual balance sheet total not exceeding £27 million (approximately £16 million). No more than 25% or more of the capital or the voting rights may be owned by one enterprise, or jointly by several enterprises.
The offer is aimed at Gateway to Global Growth customers, new participants to the Tradeshow Access Programme (TAP) and those attending selected international trade missions.
If you are a small or medium enterprise business seeking support with flights through the BA/UKTI scheme, and you are already registered on the above schemes with UKTI, please contact your existing UKTI International Trade Adviser to apply for the scheme.
If you are not already registered as a participant in these schemes, and would like to know more about how you can benefit from this initiative, contact your local International Trade Team for more details:
If you require more information on service providers for your export drive, you may want to join UKTI's UK Advisory Network (UKAN)which signposts UK exporters and investors to specialist third party advice.
Fri 24 April 2009
Associated Links
Tweet