RSS Feeds
RSS feeds can deliver the latest InfoLab21 news and events direct to your browser without you having to visit the website.
In most browsers you can click on an RSS link and choose to subscribe to the feed to add it to your favourites or bookmarks.
---
ICT JobShop Succeeds Despite Credit Crunch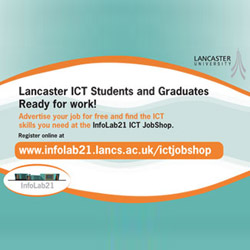 Since InfoLab21 launched the new ICT JobShop last autumn there has been a buzz of interactions between InfoLab21 students and companies.
Despite the credit crunch, 19 jobs have been posted on the site and five organisations have successfully recruited through the ICT JobShop.
(Advertise vacancies and recruit ICT graduates at the ICT Jobshop. www.infolab21.lancs.ac.uk/ictjobshop)
Case Study - ISS, Lancaster University
The first organisation was Lancaster University's own Information Systems Services Department (ISS).
ISS is the University's central ICT service department, comprising around 125 staff. As well as supporting the campus, ISS plays a vital role in providing Internet connectivity and services to many organisations and academic institutions around the Northwest of England.
Chris Dixon, Head of Operations (ISS) used the ICT JobShop to fill a short term position of Service Desk Engineer to cover sick leave. He needed someone with both theoretical and practical ICT skills, as well as a good knowledge of the University and ISS.
"I was at a loss to know where to go for ICT Technician skills. Comparatively, other methods of recruitment are quite general and you have to sift through a lot of applicants, whereas the ICT JobShop is specialised - we could find skills for most short term roles within ISS on the ICT JobShop if we needed to."
Chris used the free specialist site to register and post an advert to the group of over 90 registered ICT students.
Main Selling Points of the ICT JobShop
"The main selling points are that the site provides a real focus, not an onerous amount of HR processes and a pool of people with the skills we need. It was full of people with the technical skills we wanted, a good spread of ICT skills.
"This has previously been very difficult to find, agencies tending not to be so good at finding temporary ICT skilled staff."
Easy Recruitment Process
Within a few weeks Chris had a lot of responses back and was able to shortlist down to 4 good candidates. Finally he selected a student from InfoLab21's Computing Department, James Fraser, whose broad studies fitted in well with the role and who had relevant experience as well as experience of working at the University.
Chris added "James works the equivalent of 2 and a half days a week for us. He has settled in and things are working out really well."
The ICT JobShop was specifically designed by InfoLab21 to make the recruitment process as easy as possible and to provide employers with access to students from InfoLab21's Computing Department and Department of Communication Systems.
Wide Range Of Skills
Each student like James has a wide range of skills such as java programming, data structures and program design, systems architecture, web technologies and software engineering, which they describe in their profile, including their level of competency and relevant experience.
The site also allows users to search by keyword, which is useful if businesses require a particular skill, for example, the ability to use a particular programming language like C#.
Vital Work Experience
James commented, "InfoLab21's ICT JobShop has given me the opportunity to add vital work experience to my CV and to earn a decent wage whilst still being able to keep on top of my coursework and exam revision. I've really enjoyed working with ISS, and had it not been for the ICT JobShop, I probably wouldn't have found out about this opportunity.
"I'd recommend it for any student who is looking for a job. The signup is free and it's a great way to start paying off your student loan!"
The ICT JobShop adds to InfoLab21's excellent track record with businesses and provides another way to bring universities, businesses and communities together. InfoLab21 acts as an innovation hub, providing a gateway for business/academic interaction and transfers expertise between InfoLab21's academics, regional businesses and community partnerships.
Chris commented, "The ICT JobShop provides flexibility and choice without too much paperwork and makes the recruitment process much easier than normal. It also helps focus on exactly what you need using the skills section. I would definitely recommend the ICT JobShop and I will definitely use it again."
The ICT JobShop is open to any business seeking ICT skills and all kinds of ICT related job opportunities are welcome. Businesses and InfoLab21 students can register with the ICT JobShop at the link below.
Mon 22 June 2009
Associated Links
Tweet