RSS Feeds
RSS feeds can deliver the latest InfoLab21 news and events direct to your browser without you having to visit the website.
In most browsers you can click on an RSS link and choose to subscribe to the feed to add it to your favourites or bookmarks.
---
SAP Comes To InfoLab21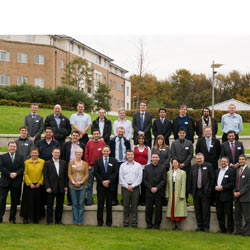 InfoLab21 is proud to have hosted the 2009 SAP UK and Ireland University Alliances Academic Forum this month.
The forum took place on 23rd October and brought together around 55 participants from academia and industry including delegates from E-Skills, The SAP UKI User Group, CapGemini and IBM.
SAP is the third largest software vendor in the world and SAP knowledge and experience is highly sought after by both users of SAP and by large professional services and consulting firms such as Accenture.
Martin Gollogly, Director of the SAP University Alliance Program, had high praise for Lancaster University and InfoLab21;
"SAP is very happy to be able to host its 2009 Academic Forum at Lancaster University. Lancaster is a key partner and I have found the faculty to be professional and enthusiastic with some of the most lucid and insightful students. It has always been a pleasure to work with them. I am also very pleased to be able to make use of the excellent facilities at Lancaster's InfoLab21. We have used the facilities in the past for workshops and conferences and have been looking forward to returning this year."
Lancaster joined SAP's University Alliance Program in April 2006, bringing immediate benefits to courses such as the MSc in E-Business and Innovation (EBIN) at InfoLab21 and Lancaster University Management School (LUMS) and MSc in Management Science at LUMS.
The SAP University Alliance is the largest academic/business collaboration in the world.
Membership, which is by invitation only, consists of 500 universities around the world, and each year many thousands of top business and ICT students gain their first hands-on experience of a real-world business management application through the program.
In addition to the Forum, SAP workshops are also being held both at Lancaster and University College Dublin.
Rachel Fligelstone, Head of ICT Focus in InfoLab21, explained the value of holding the workshops at Lancaster.
"The workshops in InfoLab21 will enable us to give our students an enviable opportunity as they will be able to work towards an industry-recognised SAP ERP certification in the Integration of Business Processes. Since SAP experience is usually extremely difficult to obtain prior to graduation, students taking this additional certification will gain a significant advantage in the job market."
Speakers at the event included:
Alan Fahey (SAP) presented on the Service and Support Centre, Internships, Placements and Recruitment of students.
Pouyan Khatami (University of Essen) presented on the method of providing TERP10 Certification routes remotely and without requiring local support.
Reuben Edwards (Lancaster University) presented on the teaching of Business Intelligence and being creative with student BI examples.
Simon Polovina (Sheffield Hallam University) presented on the SHU SAP MScs and the SHU experience.
Louay Gargoum (SAP) presented on Business Intelligence research within SAP and links with the academic research community.
Hans Van Der Heijden (University of Surrey) presented on the University of Surrey experience using SAP within their MSc in MIS.
Glyn Evans (Birmingham City Council) presented on a 'real world' huge SAP implementation and the issues involved.
Wed 28 October 2009
Tweet