RSS Feeds
RSS feeds can deliver the latest InfoLab21 news and events direct to your browser without you having to visit the website.
In most browsers you can click on an RSS link and choose to subscribe to the feed to add it to your favourites or bookmarks.
---
£500K Investment For InfoLab21 Resident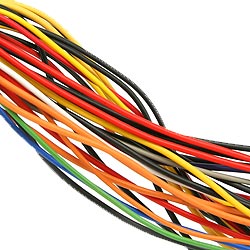 CableSense Ltd have secured a £500,000 investment from the UMIP Premier Fund (UPF) to bring to market an innovative intelligent cable infrastructure management system.
CableSense is a North West success story. The idea originated from a business based in Morecambe, and over the last few years the founders have collaborated with InfoLab21 at Lancaster University (where they are now based) and the School of Electronic and Electrical Engineering at the University of Manchester with support from Technology Strategy Board (TSB).
The UMIP Premier Fund (UPF) invests in spin-out businesses emerging from The University of Manchester. UMIP undertakes the stringent business selection of the investments and the fund is managed by the UK's leading technology investment manager, MTI.
CableSense received a £100,000 Proof of Principle investment earlier this year through the technology transfer and incubation process at UMIP, and has now graduated to a full UPF investment.
John Kelly, the founder and Technical Director of CableSense stated:
"This investment provides a fantastic platform for CableSense to productise its technology and prove its business model. Both MTI and UMIP have worked hard to help us put the corporate structure and commercial foundations behind this business and with our technical approach I'm confident that we can fill a substantial gap in the market."
Investment Manager of MTI Partners, Mark Rahn said:
"CableSense proves two things. Firstly that it is possible to build great start-up companies through all North West corporate and multiple university collaborations and secondly that it is possible to shape up a great product and business model in less than a year. This is simple but clever technology that if positioned properly in the market has great potential."
CableSense's product is readily retro-fittable to existing cabling installations at a low cost.
The systems use CableSense's proprietary technology for network cable monitoring, scanning and mapping which substantially reduces the cost of maintaining and running a network including the cost and complexity of moves, adds and changes, fault identification and diagnosis, inventory management and capital expenditure through the identification and re-use of redundant equipment and capacity.
The company will remain at Lancaster for the foreseeable future and it will form part of the growing cluster of high-tech companies across the North-West region.
Wed 25 November 2009
Associated Links
CableSense Ltd - InfoLab21 Company Profile
UMIP - The University of Manchester Intellectual Property Limited
Tweet